Demon FMX Full Throttle Fury
107 Cable St, Wellington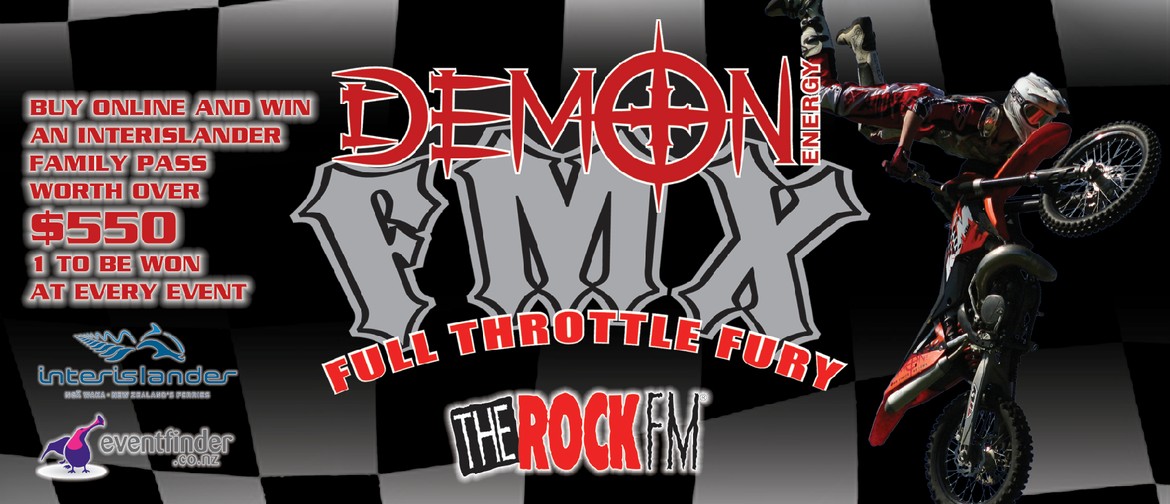 Ticket Information
General Admission X 5: $60.00

ea

General Admission X 4: $50.00

ea

General Admission X 3: $40.00

ea

General Admission: $15.00

ea

Eventfinda tickets no longer on sale
Restrictions
Website
Listed by
The adrenaline pumping, no frill and all thrill action of freestyle motor cross comes to Wellington on the 5th December. Book online and be in to win an Interislander family pass* worth over $550. We've one pass to give away at each show.
Visit www.fullthrottle.biz for full terms and conditions of purchase and entry.
We have provided this FAQ as a quick reference guide for you.
Why are there no children tickets?
The multi-person tickets are intended for families and the discounted price are built into this. This policy also assists reduce the attendance of unaccompanied children. Children 2 and under are admitted free.
I've bought a 3, 4 or 5 person ticket, when can we all gain entry?
Everyone entering on the ticket must enter at the same time. You cannot make multiple copies of the ticket and distribute them to your family or friends to gain separate entry. When the ticket is scanned at the gate the number of persons allowed entry under that ticket must be admitted all at once. If anyone for whom the ticket was purchased is not present you will have to wait for them to arrive or forfeit their entry to the Event.
Can I take my camera?
No, small personal snapshot cameras with or without video function, video/DV/DVD cameras and professional setups are not permitted. Mobile phones with camera and/or video function are permitted where any images (still or video) taken at the event are for personal use only. Video of events will be available to view at www.therock.net.nz
I can't make the show as something came up, can I get a refund?
No, refunds are only available if the show is canceled.
What happens if there is bad weather on event day?
If the event is affected by bad weather it may be postponed to a future day at a time to be advised by the seller. If the rescheduled day is also affected by bad weather, the event will be canceled and tickets refunded. We will decide whether to perform or not by midday on the day of the event. If the show is canceled or postponed you will be advised by email before 12:30pm. We recommend you keep an eye on weather forecasts.
What are the seating arrangements at the event?
There is no seating at our events except where the venue provides seating such as a grandstand. There is ample space in our compound and all the action is high enough for everyone to view.
Can I take chairs into the event?
No, chairs are not permitted. You are welcome to bring blankets and cushions as we will reserve an area for fans who wish to be seated where the venue does not have existing seating. We have a "kids up front" policy at our events and with parents or caregivers permission children will be invited to the front of the performance area. We ask that you respect other fans rights to view the event. If you wish to stand please do so at the rear or of any seated fans or to the sides of the performance area.
I am in a wheelchair, am I able to see the show?
Yes, wheelchair bound patrons are entitled to have their carer attend the show with them, free of charge.
How long does the show last?
Approximately 1 hour.
Can I bring food into the venue?
No. Small snacks may be permitted.
What time do the gates open?
30 minutes before show time.
Are ticket holders close to the action?
There is plenty of room in the compound to get up close to the action. If all fans adhere to our seating policy everyone will have a great view. We can't guarantee the view from existing seating provided at a venue though.
What happens if I forget my ticket?
You must have your ticket with you to gain entry to the event. Your ticket is also your receipt and proof of purchase and entitles you to a chance to win the Interislander family pass given away at each event.
What if somebody copies my ticket?
Each ticket has a unique code that is scanned and allows for the entry of the designated number of persons recorded on the ticket.
* Family pass is a return Interislander ferry crossing for 2 adults, up to 3 children and a vehicle.