Tribute to Peter Sauerbier
251 Parnell Rd, Habitat Courtyard, Parnell, Auckland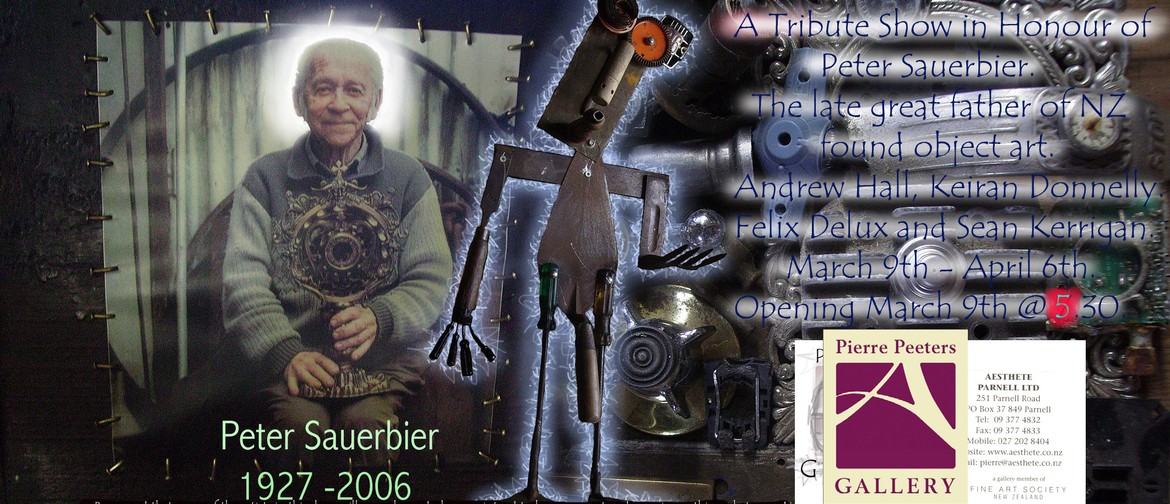 Restrictions
Website
Listed by
Pierre Peeters Gallery would like to welcome you to view 'A Tribute to Peter Sauerbier', which is a group exhibition of four very individual artists paying homage to the master of assemblage and constructor extraordinaire, the late Peter Sauerbier.
Peter Sauerbier is widely regarded as the great father of New Zealand found object art. This is a form of art where a natural object or an artefact not originally intended for an artistic purpose, is found and considered to have aesthetic appeal and is then used as part of a visual artwork. Found object art can make important statements about resurrection and reinvention and the unnecessary waste associated with consumer production.
For over 40 years Sauerbier created fascinating artworks out of materials and specially selected objects sourced from markets, building and demolition sites as well as 2nd hand haunts around Auckland. In his workshop these objects would undergo a dramatic transformation as a result of reconfiguration and construction by the master craftsman, and would reappear as creatures, figures and other fantastical creations. Shortly before he died, he gifted his collection to Waitakere City with the intention that it go on permanent display.
Sauerbier has inspired and influenced many artists including our four exhibiting artists who are Felix Delux, Keiran Donnelly, Andrew Hall and Sean Kerrigan. These artists are very knowledgeable about Sauerbier's work and three knew him well.
Felix Delux welds wonders with discarded metals and often salvages materials from local sources in Raglan. For this exhibition he will be showcasing some of his unique recycled circuit board lamps. He was at one time a member of the well known music band Headless Chickens and currently manages his own recording label.
Keiran Donnelly is primarily a multimedia artist who works with both metal and wood, constructing seemingly whimsical objects that question whether our new God of consumerism is a God worth praying to. He is also a painter who works in both acrylic and oils and is exhibiting selected paintings which he says share a similar creative process to his found object artworks. Keiran is at this time in Melbourne having been invited as an artist to share his graphic expertise in the ancient tradition of tattoo.
Andrew Hall specialises in spontaneous, multi dimensional assemblage and revels in working with the uncompromising medium of metal. He particularly enjoys creating figures and creatures that have high impact and a peculiar mix of comedy and horror.
Sean Kerrigan builds unique steel furniture masterpieces and creates experimental musical instruments. For this exhibition he has rediscovered his boxes of found objects and is constructing furniture for a post apocalyptic age.
You are invited to attend the private preview opening of this exhibition: Tuesday 9 March 5.30pm.
More details on this exhibition feature on our website: www.ppg.net.nz. I hope you are able to attend the opening and look forward to welcoming you to the gallery.

Pierre Peeters