Sorry, this event's been and gone
Boulevard Arts Market
may be the upcoming event you're looking for.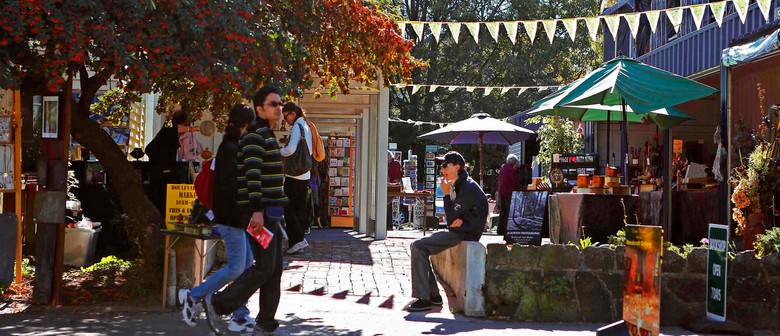 When:
Wed 3 Jul 2013, 9:00am–5:00pm
Thu 4 Jul 2013, 9:00am–5:00pm
Fri 5 Jul 2013, 9:00am–5:00pm
Sat 6 Jul 2013, 9:00am–5:00pm
Sun 7 Jul 2013, 9:00am–5:00pm
A new artisans' market of quality, locally and New Zealand made arts and crafts. Reflecting the essence of New Zealand creativity.
Held on Wednesday to Sunday, across the road from The Arts Centre. The weekend market makes up part of The Boulevard Container Shops, a wonderful Christchurch shopping experience, which are open here 7 days a week, 9am-5:30pm.
We have traders and artisans selling wooden home wares, boxes, bowls and souvenirs. Home spun, hand knitted woolen hats, jerseys and scarves. Hand knitted dog coats and hand puppets. Original hand-painted water colours of iconic historic Christchurch buildings and locations. Hand-made crystal and glass bead jewellery and an interesting collection of retro jewellery. A unique, diverse range of New Zealand wool products from merino cardigans, baby blankets and booties, bags and hot water bottle covers. Green-stone jewellery. Stone gathered and carved on the West Coast. Locally-made paua shell jewellery, gifts and souvenirs.
Recently we have been joined by The Arts Centre Book Shop. With all New Zealand books, cards and post-cards and Andrew Walmsly's photo prints catching NZ form and life on photo blocks and in travel rolls. Etchings of Christchurch heritage buildings and architectural details on slate - Christ Church Cathedral, The Catholic Basilica, The Post Building and others. Pure locally gathered Christchurch runny honey, hand-dipped and rolled pure bees wax candles.
If you're a local crafts person wanting a stall, contact us at toni_jackson@live.com.
Restaurants to book near Boulevard Arts Market