This event's been cancelled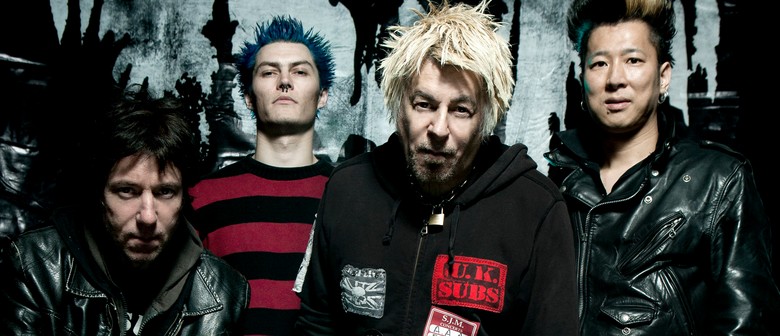 Website:
Related Artists:
UK SUBS announce last ever Australian and NZ shows.
The UK Subs are one of the most visibly successful punk bands of all time, having established themselves with a staggering amount of releases and a relentless touring schedule that continues to this day from their humble beginnings at the birth of the British Punk Scene circa 1977.
Led by the legendary Charlie Harper - the irrepressible front man that has the respect of everyone in the punk scene- he continues to amaze and inspire with his seemingly inexhaustible lust for life, music and the live circuit.
2013 saw the eagerly anticipated new album 'XXIV' (which was released to critical acclaim) - the 'Subs 24th in their quest to become the first band ever to release their official albums alphabetically from A to Z.
They are, of course, no strangers to Australasian shores, having toured here a number of times with great success. But alas, the time has now come for them to start 'downsizing' their truly impressive touring regime.
And so, it is with great pleasure (and sadness) that Punk Rock Road Trips announce the final Australasian tour for the UK Subs. Shame? You bet! But for all ye old faithful fans, this will be one last chance to catch this legendary band live in Australasia. And for those who have yet to see the 'Subs in action, don't die wondering.
Tickets on sale Thursday August 15.
Restaurants to book near UK Subs: CANCELLED