This event's been cancelled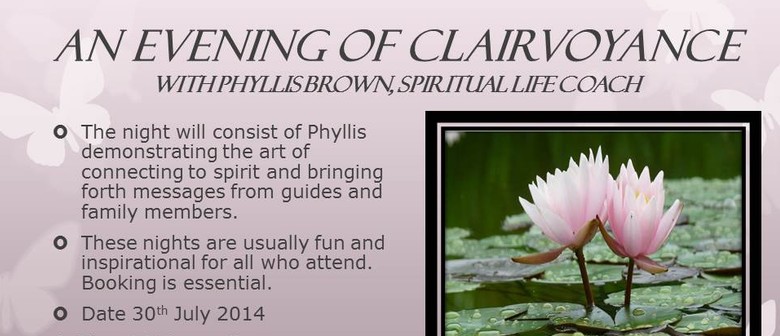 When:
Wed 30 Jul 2014, 7:30pm–9:00pm
Website:
This special night will consist of Phyllis Brown, spiritual life coach demonstrating the art of connecting to spirit and bringing forth messages from guides and loved ones who are in the spirit realms.
The nights are usually fun and inspirational for all who attend. The messages that come through resonate with everyone who attends and although no everyone gets a message on the evening everyone seems to take away something of comfort from the event.
Special note
Phyllis Brown Assoc CIPD will be appearing on CTV's Canterbury Life show
Thursday 15th May @ 4.30pm, tune in to hear about this event and other teaching from Phyllis.
If you would like to come along please book your space as these events tend to be busy! Tickets via eventfinder.co.nz
Date: 30th July
Time: 7.30pm - 9pm - (Door opens 7pm)
Cost: $25
Venue: Lincoln Event Centre, 15 Meijer, Lincoln.
For more information on the event email on info@phyllisbrown.co.nz, payment on the day.