Sorry, this event's been and gone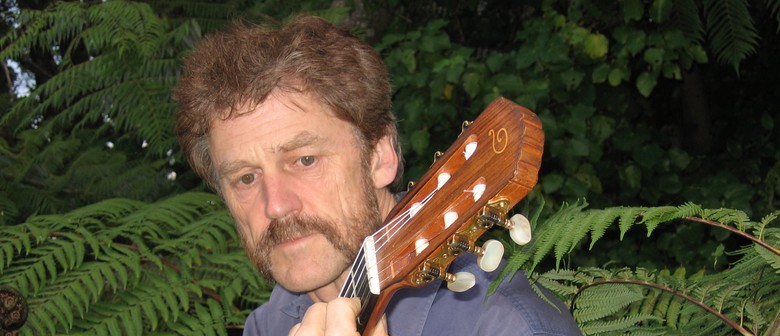 When:
| | |
| --- | --- |
| Sun 6 Jul 2014, 7:00pm–7:00pm | |
Website:
People and Places
Energetic concert guitarist and singer Jonathon Harper is an ex-Nelsonian who now lives in Wellington. Back in the mid 1970s, he played here in various folk classical and rock venues including the iconic Chez Eelco Café, School of Music (where he also studied composition) and Bishop Suter Art Gallery. He was then the first local itinerant guitar tutor in classical rock & folk guitar at Nelson Boys, Nelson Girls and Nayland College.
Harper is a man of many talents and interests that feed into and inspire his music. While in Nelson, he will run in an Athletics Nelson road race, and may carry out some research on a feature article he is completing on police eye-witness procedures. Several of his feature articles have appeared in The Press
The programme begins with a few exotic folk songs: one from the Netherlands is a tribute to former Chez Eelco owner Eelco Boswijk; another is a song sung in the Tiananmen Square protests, composed by a man who lived in New Zealand. Most of the music, however, is a kind of musical memoir of Harper≠s decades of living in and touring New Zealand as a full time concert guitarist and singer. The programme draws on his most recent Voice of New Zealand folk album. The music, although all folk music, has eclectic influences from Harper's time as a classical concert guitarist, his rock band era and Latin tours with various musicians from South America.
Artist's Background: Folk music was Jonathon Harper's very first kind of music he learnt on guitar right back in the 1960s when artists such as The Seekers and Woodie Guthrie were famous. Bohemian folkies wore duffle coats & smoked pipes in those days in hip candle-lit coffee bars. Harper was an original folkie regular back then & performed in numerous famous folk clubs, cafes & coffee bars.
He also speaks Spanish (and a bit of Italian and Maori) and has toured and performed with various musicians including: Robin Perks (recently retired NZSO violinist), Mani Fagundes (Brazil), Roberto Rodriguez (Cuba), Edrick Banks (as the Wellington Guitar Duo), Grigota Monasterio (Bolivia), Cristian Huenuqueo (Chile) and many more.
Harper's second solo guitar release is Guitar Stories. His Impressions of Rome classical guitar sonata (written in Rome) from this CD has been featured on concert FM.
Harper has toured giving concerts in Australia, England and Italy. He has been supported by Creative NZ, the Yamaha Foundation and Mobil NZ.
Arts festival appearances have included: Hamilton Gardens, Bay of Islands, Whakatane and Christchurch.