Sorry, this event's been and gone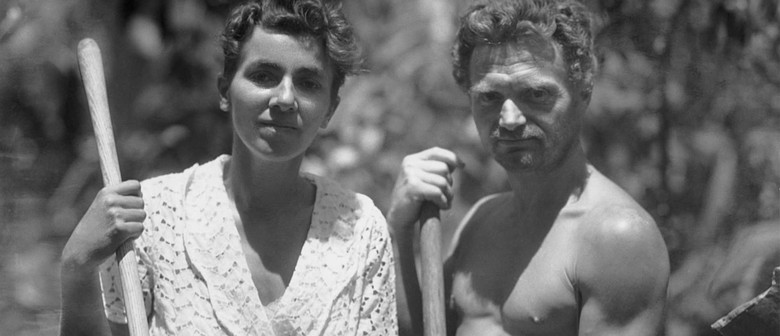 When:
Sun 10 Aug 2014, 1:30pm
Mon 18 Aug 2014, 6:15pm
Fri 22 Aug 2014, 1:45pm
Where: Hoyts Northlands,

Northlands Shopping Centre, Main North Rd, Papanui, Christchurch
Related Artists:
A flamboyant Viennese baroness and her two lovers bring mystery and murder to a lonely Pacific paradise in this lavishly archived, stranger-than-fiction documentary whodunit.
Almost improperly entertaining, this documentary whodunit spins a tale of utopian ideals, sexual intrigue and murderous jealousy – all on tiny Floreana, one of the Galapagos Islands. The events it describes were a media sensation in the 30s, thanks in large measure to the enthusiastic on-film cavorting of the story's flamboyant femme fatale. Filmmakers Dayna Goldfine and Dan Geller (Ballets Russes) have restored a cornucopia of reportage, archival film and photography and enlisted top-line voice talent, including Cate Blanchett, to explore this bizarre tale anew. In 1929, German physician Friedrich Ritter abandoned wife, family and civilisation to settle on unoccupied Floreana with Dore Strauch, his patient and lover. They were followed, to their displeasure, by another German family. Not long after, the so-called Baroness Eloise von Wagner showed up with her two lovers and threatened to turn Ritter's island of glorious isolation into a tourist resort. Hacienda Paradiso! When American philanthropist George Allan Hancock met the Baroness on one of his frequent research trips to the Galapagos, she fast became his most exciting discovery. The stage was set for her international fame and a sharp decline in the population of paradise.
"I'll spill nothing… A story this well told deserves to be relished. Goldfine and Geller pace and structure The Galapagos Affair like the true-crime tale that it is, its mysteries rich and involving, its characters enduring in the imagination long after the film has ended." — Alan Scherstuhl, Village Voice
"Move over, Charles Darwin, when it comes to great tales about the Galapagos, you've got company."-Kenneth Turan, LA Times
Restaurants to book near NZIFF - The Galapagos Affair: Satan Came to Eden