Sorry, this event's been and gone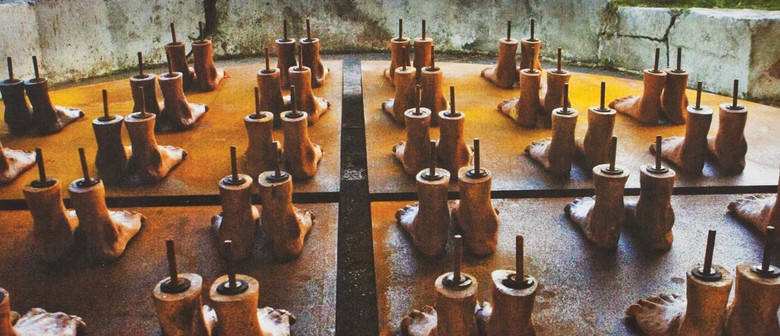 When:
Wed 17 Sep 2014, 10:00am–4:00pm
Thu 18 Sep 2014, 10:00am–4:00pm
Fri 19 Sep 2014, 10:00am–4:00pm
Sat 20 Sep 2014, 10:00am–4:00pm
Sun 21 Sep 2014, 1:30pm–4:00pm
Website:
"The sculptural work 'Victory Medal' is a memorial to the grievous losses of World War 1 and a reflection on the idea of 'victory' in war.
A platoon of larger than life size pairs of feet are positioned 'standing to' and aligned like crosses in a military cemetery, facing east as with tradition and mounted on a rusted steel 'medal'. One pair of feet is cast in bronze, and is positioned within this configuration seemly randomly.
The feet are bare and vulnerable, and stripped of difference or individuality. The ceramic feet are moulded from rough processed clay, suggesting conformity and disposability. The bronze feet in contrast are enduring and ritualistic.
'Victory Medal' makes comment on the magnitude and never fully determined impact of that war on the culture and psyche of subsequent generations of New Zealanders." - Helen Pollock