Mangaweka Fakes & Forgeries And Christmas Fayre
6360 State Highway One, Mangaweka, Rangitikei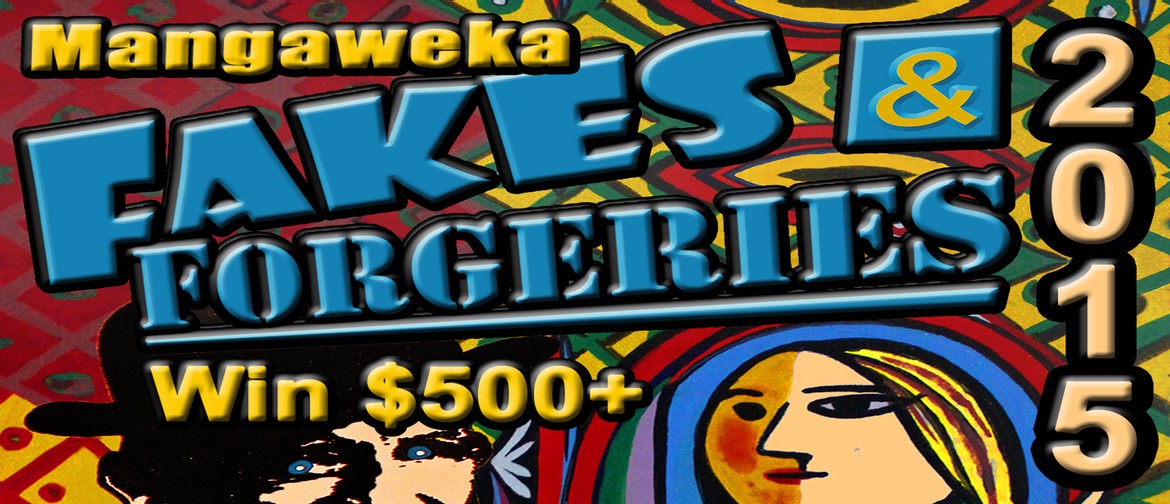 Restrictions
Listed by
Time to dig out your paints & brushes, (or whatever medium you work in!) and get creating your artworks for Mangaweka Fakes & Forgeries! With a prize pool of over $500+, plans for a fun day of events, markets, and even a Christmas Fayre in the Village Hall - Be sure to mark the 14th of November 2015 in your diaries Now!
This November the extraordinary village of Mangaweka will be holding it's Biennial Fakes & Forgeries Art Exhibition and Festival of events, yet this year with an added twist of a spectacular Christmas Fayre to be held in the historic Village Hall. The art exhibition is open to three groups, Adult section, 16 years and under, and a special collective schools category. The theme is simple; create an exact replica, a copy with a twist, a work inspired by OR in the style of a famous artwork or Artist! The event was first inspired by the now sadly departed world famous art forger Karl Sim (aka Goldie) who was actually born in Mangaweka in the Rangitikei district. His works went on to become major collectors and investment pieces after some of them were (allegedly!) signed with the signatures of other artists and sold on to the New Zealand art market in the last Millennium, sparking the one of the longest trials in NZ history! Sim received a hefty fine and was ordered to do community work, yet also craftily changed his name by deed pole to C.F. Goldie immediately after the trail. He went on to become well known for his cheeky pokes at the 'established' art world, and was often a guest speaker and presenter at both Mangaweka's and other art events before his departure to the big Art gallery in the sky in October 2013. Undeterred Mangaweka continues to honour it's most famous son with this fun art event for all the family. Art works need to be completed and delivered to the historic "Yellow Church" Gallery on State Highway one, by Sunday the 8th of November in preparation for the big opening event the following Saturday the 14th of November. As usual there will be the actual exhibition, craft, second hand and food markets in the Museum grounds, a bouncy castle for the kids, with the Mangaweka Hotel open for drinks and meals, and entertainment in the evening. There are plans for at least two new large out-door paintings to be revealed as part of the ongoing "Mangaweka Masterpiece's" village open air and walk around art display project. As mentioned new this year will be Irene's "Christmas Fayre" whereby participants are invited to bring along crafts and other produce for a pre-Christmas extravaganza of locally and nationally produced wares and tares. All this kicks of at 10am on Saturday the 14th of November.
For information on the art exhibition contact Richard Aslett on 027 52 666 12. Information of the Museum and open markets contact Alison at adorrian@xtra.co.nz . For information stalls etc on the "Christmas Fayre" contact Irene on 06 382 5886 at tardisone@vodafone.co.nz
Post a comment
Did you go to this event? Tell the community what you thought about it by posting your comments here!