Sorry, this event's been and gone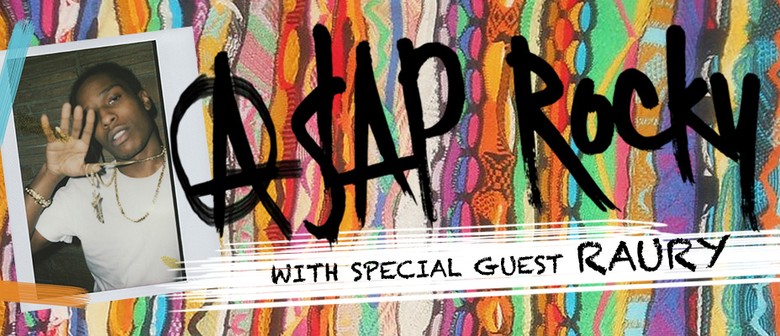 Let's take it to the basics, you in the midst of greatness. Illusive and Frontier Touring are pleased to announce American rapper and international tastemaker A$AP Rocky will be returning to Auckland on his Australasian tour this February. His return comes two years after his 2013/2014 visits to New Zealand, including headlining La De Da in Wellington and a sold out Logan Campbell Centre in Auckland.

The 2016 tour follows the huge international success of A$AP Rocky's sophomore full-length album At.long.last.A$AP (RCA Records / Sony Music Entertainment) which was released in May this year. The album debuted at #1 on the Billboard 200 and at #6 on the New Zealand Top 40. The 18-track release boasts an incredible list of producers – Danger Mouse, Kanye West, Mark Ronson, A$AP Yams and A$AP Rocky himself among others. It also features an impressive line-up of guest appearances (16 in total) from the likes of Rod Stewart, Miguel and Mark Ronson on 'Everyday', Kanye West and Joe Fox on 'Jukebox Joints' and ScHoolboy Q on 'Electric Body'.

"A$AP Rocky ain't a rapper, folks. Dude is a bona fide All-American rock star…" – Complex

"…as he gleefully skipped up and down its stairs, confetti raining down just three songs in, he seemed every bit the headliner that few would've expected a couple short years ago." – Entertainment Weekly
A$AP Rocky is a member of the Harlem, New York hip hop collective A$AP Mob; a collective of rappers, record producers, music video directors and fashion designers who share a similar interest in music, fashion and art. A$AP Mob also includes members A$AP Ferg and the founding member A$AP Yams among others.

The collective produced the video for 'Purple Swag' and Rocky's debut single 'Peso', the lead single from Rocky's breakout mixtape Live.Love.A$AP. The mixtape was released in 2011 to wild critical acclaim and captured the attention of many high-profile record labels, with A$AP Rocky going on to sign a famous deal with Polo Ground Music, RCA Records and Sony Music Entertainment, at the same time starting his own label A$AP Worldwide with long-time partner and mentor A$AP Yams. Later that year Rocky, along with Kendrick Lamar, was named as an opener for Drake's Club Paradise Tour which saw shows played at college arenas throughout the US. Hype was building at an enormous pace.

His debut full-length effort, Long. Live. A$AP, was released in 2013 (RCA Records / Sony Music Entertainment) and shot straight to the top spot of the Billboard 200, Hip-Hop Albums, R&B Albums and Digital Albums charts and made Top 10 debuts in 24 countries. The album solidified Rocky's new-found star status and featured huge collaborations with the likes of Drake, 2 Chainz and Kendrick Lamar on 'F**kin' Problems', Skrillex and Birdy Nam Nam on 'Wild For The Night' and Florence Welch (Florence and the Machine) on 'I Come Apart'.

In 2014, Rocky got the call up alongside fellow rappers Tyga, Casey Veggies and Vince Staples to star in cameo roles in the cult film Dope which premiered at the 2015 Sundance Film Festival. Not only blazing trails musically as an artist, producer, collaborator, label owner and in the film sector, A$AP Rocky has also dipped his toes in the fashion game – having collaborated with visionary Raf Simons on his A$AP clothing brand.

Prior to his Australian and New Zealand tour dates, A$AP Rocky will see 2015 out with international tour dates throughout the US, UK, Europe and Canada with hip hop and rap royalty Tyler, The Creator, Danny Brown and Vince Staples. He recently made major television appearances including performing 'Everyday' and 'Pharsyde' on The Late Show with James Corden and performing 'Electric Body' with ScHoolboy Q on Jimmy Kimmel Live.

A$AP Rocky is indisputably one of the most revered rap artists of his generation and is at the absolute top of his game. His presence is a present, just to kick it is a blessing. That pretty motherf***er is coming.
Restaurants to book near A$AP Rocky