Schubert at St Andrew's
30 The Terrace, Wellington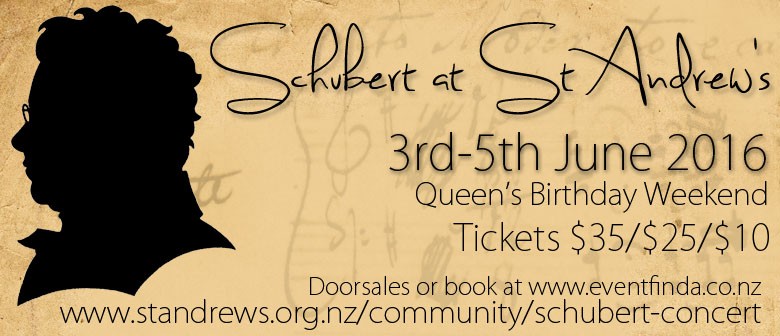 Restrictions
Website
Listed by
Indulge your inner Romantic.
A season of 5 concerts featuring New Zealand's finest professional musicians.
Friday 3rd June 6.30pm 'Cornucopia'
Octet in F Major D. 803
Arpeggione Sonata in A Minor D. 821 for piano and double bass
Yuka Iguchi (vln) Anna Van der Zee (vln) Belinda Veitch (viola) Ken Ichinose (cello)
Alexander Gunchenko (double bass) Rachel Vernon (clarinet) Leni Mäckle (bassoon)
Heather Thompson (horn) Kirsty Simpson (piano)
Saturday 4th June
3.00pm 'The Ripple Effect'
The Trout Quintet D.667.
Notturno D.897.
Anna Van der Zee (violin) Chris Van der Zee (viola)
Jane Young (cello) Richard Hardie (double bass)
Rachel Thomson (piano)
6.30pm Piano and Lieder Recital
Piano Sonata in A Minor D.784
6 Moments Musicaux D.780
7 Heine Lieder from 'Schwanengesang' D.957
Diedre Irons (piano) Richard Greager (tenor)
Sunday 5th June
3.00pm The Aroha Quartet
String Quintet in C Major D.956
String Quartet No. 10 in E flat Major D.87
Haihong Liu(violin), Simeon Broom(violin), Zhongxian Jin(viola)
Robert Ibell(cello)with Ken Ichinose (cello)
6.30pm 'Ein Liederabend'
A Lieder Recital featuring:
Barbara Paterson (sop) Maaike Christie-Beekman (mezzo-sop) Jared Holt (baritone) Bruce Greenfield (piano)
Enquiries: Marjan 027 766 9454 or Richard Greager 021 213 9041.
Tickets: $35/$25 Gold Card/$10 Students.
The Organisers gratefully acknowledge the assistance and generosity of Rev Dr Susan Jones, Minister of St Andrew's on The Terrace. Wellington.
Post a comment
Did you go to this event? Tell the community what you thought about it by posting your comments here!