This event's been cancelled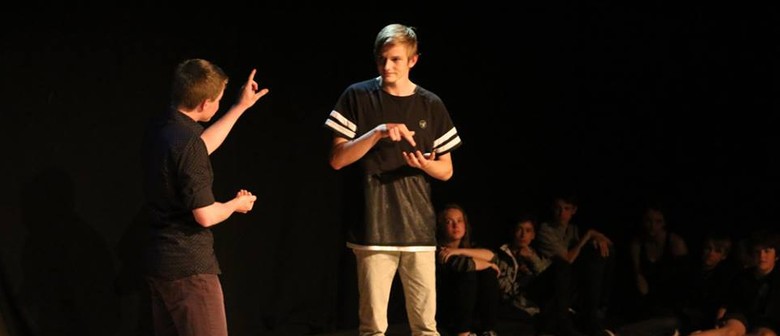 When:
Sat 14 Oct 2017, 10:00am–1:00pm
Website:
Part of the New Zealand Improv Festival 2017
This is a workshop all about youth and introducing you to the wonderful world of improv! Let's play a bunch of games, tell a bunch of stories and laugh so hard we've all got abs by the end of it. The only rule? No adults allowed!
But seriously though, this workshop will teach you some actual things:
- To be confident, even when you have no idea what you're going to say next.
- To trust your scene partners and make them look great!
- To find the fun in failure (the more epic the fail, the more fun to be found!)
- To improvise stories that make sense (mostly).
This workshop is for teens (aged 13-18) who want to try improv in a super fun, confidence building workshop. Experienced teenagers also welcome.
Bring a water bottle, a snack and as much creative energy as you can muster.
Workshop attendees will also receive a complimentary ticket to any night of Improdome, our competitive team-based show at BATS Theatre, running 17-21 October at 6:30pm, and will receive official Festival participant packs.
About the teacher:
Austin Harrison has been playing and coaching since he was 11 years old. After coming through the Christchurch theatre sports comps (and picking up a couple of trophies along the way), he moved to Wellington and joined PlayShop in 2016. Austin has 'heaps' of experience working with this age group, in improv coaching and beyond. Austin coached no fewer than 6 junior theatre sports teams into the Christchurch competition finals and he set up his own Performing Arts Holiday Programme which ran through the YMCA in 2015 and 2016. He's also a qualified youth football coach and tutors several local students in NCEA subjects.
"He's actually not too annoying"- Patrick Harrison (Austin's 14 year old brother)
New Zealand Improv Festival
14-21 October 2017
Restaurants to book near No Adults Allowed: Improv Workshop for Teens: CANCELLED