Sorry, this event's been and gone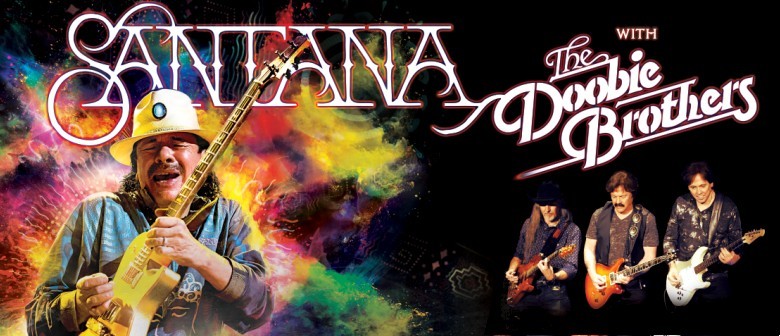 Legendary guitar virtuoso, multi Grammy Award winner and a Rock and Roll Hall of Famer, Carlos Santana, and his band Santana, are coming to New Zealand on his Transmogrify Tour to play one Auckland show on Tuesday 18th April at the Vector Arena. Tickets are on sale Tuesday 29th November at 12 noon local time.

Santana last toured New Zealand in 2013, playing Auckland with The Steve Miller Band in what one reviewer described as an 'exceptional' double bill. Delivered with a level of passion and soul equal to the legendary sonic charge of his guitar, Santana returns to our shores performing songs from over four decades of his career including hits and songs of yesterday, today and tomorrow.

This time around, the mighty Doobie Brothers will join Santana as Special Guests, adding to both artist's already announced appearances on the mammoth bill for the 28th Annual Bluesfest in Byron Bay.

In addition to playing Auckland with Carlos Santana, The Doobie Brothers will be takin' it to the streets of Wellington, playing their own one-off show at the TSB Bank Arena on Thursday 20th April. A global enduring favourite of the 1970's, The Doobie Brothers combine a touch of blues, and plenty of soul and rock 'n roll to create their nostalgic Californian rock sound. Their celebrated back catalogue of music includes hits like 'Listen To The Music', 'Long Train Runnin', 'What A Fool Believes' and so many more.

The passion infused, melodic sound of Carlos Santana's guitar is one of the world's best-known musical signatures. For more than four decades - from Santana's earliest days as a groundbreaking Afro-Latin-blues-rock fusion outfit in San Francisco - Carlos has been the visionary force behind artistry that transcends musical genres and generational, cultural and geographical boundaries.

From Woodstock to the Hollywood Bowl and everywhere in between, Carlos Santana is one of the most prolific and influential guitarists of all time. In a career spanning more than forty years, Santana has sold in excess of 100 million records and reached more than 100 million fans at concerts across the globe, with no less than ten Grammy Awards and three Latin Grammy Awards to his name. 1999's Supernatural album saw Santana chalk up a record-tying nine Grammy's for a single project, including awards for Album of the Year and Record of the Year for 'Smooth'. Among many other honours, Rolling Stone has cited Carlos Santana as #15 on their list of the "100 Greatest Guitarists of All Time".

April 2016 heralded the release of Santana's 24th studio album, Santana IV, featuring sixteen all-new tracks and claiming a No.5 Billboard Top 200 debut. Fans were thrilled to have the original late-1960's lineup featured on the record, the same band that performed at Woodstock; Carlos Santana (guitar, vocals), Gregg Rolie (keyboards, lead vocals), Neal Schon (guitar, vocals), Michael Carabello (percussion) and Michael Shrieve (drums).

Santana will touch down in New Zealand with Special Guests The Doobie Brothers straight off the back of a multi-year residency at the famous House of Blues in Las Vegas. He will be set to ignite stages across the country once again, with a style that fuses Latin rock, blues, soul and jazz, transcending time and the limits of genre typecasting.

Tickets On Sale Tuesday 29th November, 12 Noon Local Time.
Restaurants to book near Santana and special guests The Doobie Brothers