This event's been cancelled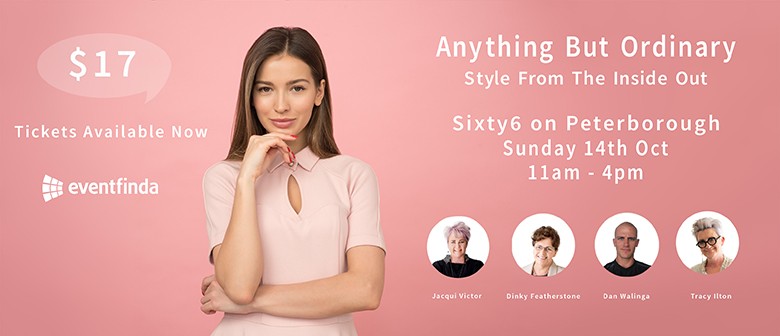 When:
Sun 14 Oct 2018, 11:00am–4:00pm
Where: Sixty6,

66 Peterborough Street , Christchurch
Grab your girlfriends and come along to a fun day focussed on style and well-being. We have a fantastic line-up of speakers and demonstrations, with stations where you can chat to each of us to learn more about how to achieve your best and happiest version of yourself. Fantastic spot prizes on the day too!
11:30am: Come and meet Multi award winning Jacqui Victor and her fabulous team of hairdressers and makeup artists from True Grit! It's time to be up close and personal with your stylist !!! You can ask this awesome team anything you like about hair and make up! They are transparent, fun loving and out there ! Do you have those burning questions to ask a hairdresser ?
True Grit will perform hair and makeup demonstrations on stage, showcasing True Grit, current trends and styles. Their Young Blood cosmetics are available to try and buy, and will be available all day for you to chat with about all things hair and makeup. There's rumours of loads of spot prizes also! Insta truegritnz
1:00pm - Tracy Ilton Stylist will talk about all things style and image, what to add to your wardrobe this Spring/Summer, and the importance of understanding your style personality and image. She will be available all day to chat with so feel free to say hi, and ask her anything fashion/style related. She'll also have her exclusive collection of idbyILTON clothing available for viewing and purchase. Take advantage of her personal stylist skills and learn what you should be wearing, and how to look and feel your absolute best.
2:00pm - Dinky Featherstone will demonstrate the benefits of the Emotional Freedom Technique (EFT) which is a meridian based therapy often referred to as Meridian Tapping or Acupuncture Without Needles. Dinky specialises in helping people live their best lives stress free
3:00pm - Personal Trainer and Lifestyle Coach Dan Walinga has been in the industry for over 10 years. He will talk to us about the importance of good posture and nutrition, including how to improve your posture, and how to nourish your body through healthy nutrition habits. Dan has helped hundreds of clients improve their health and well-being and will share effective strategies and habits that he uses to get his clients fantastic results.
Callum Stewart from NZNutritionals Christchurch will have a station where you can chat to him about their amazing Nutritional products, and be one of the first to experience their amazing new product QT which is marketed as "Internal Use Cosmetics". These nutrients will have your skin positively glowing in no time!
Restaurants to book near Anything But Ordinary - Style From the Inside Out: CANCELLED