Sorry, this event's been and gone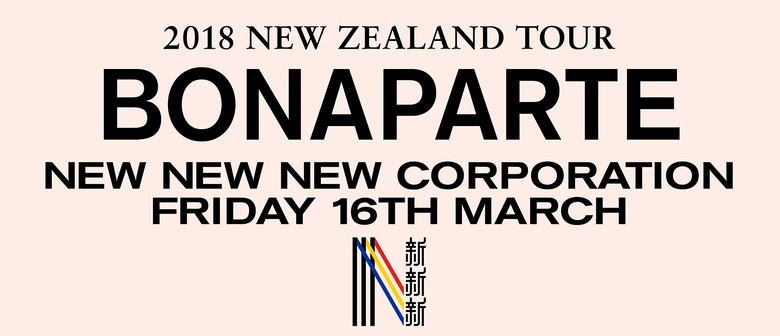 When:
Fri 16 Mar 2018, 8:30pm–11:00pm
Website:
Fresh from Berlin.
New New New Corporation presents Bonaparte for all citizens, and for one night only.
*Trash punk, Electro punk, Acid Trip style shows, Electroclash
Touring with full band, bringing their own brand of garage punk with analogue synth, an ironic mixture of electro, punk, rock, blues, and hip-hop - there are no labels that do Bonaparte justice!
"Bonaparte is normally known for his crazy shows, the circus-artists, touring with him, and his melancholic broken vocals, typical for indie-scene. There are much more labels which you could try to put on this artist, but it's all about music. And the moment as you dive into his music, his lyrics and give in into his glitter sad world, you'll lose your speech and lose all the arguments." - Reflections of Darkness
"Bonaparte's 2008 debut "Too Much" is as perfect a calling card as you get. Everything that makes the band their unrepeatable selves is represented here. The herky-jerky dance grooves, the fuzzy vintage synths set against the odd rattling bass line or a raggedy jagged-edge of guitar could be all be probably put under a strained definition of "electro-punk" or "dance-punk", but genre labelling doesn't really do justice to the record." - Sputnik Music
Reviews: https://www.sputnikmusic.com/review/73151/Bonaparte-Too-Much/
Restaurants to book near Bonaparte