New Clothing Range - Launch
6360 State Highway One, Mangaweka, Rangitikei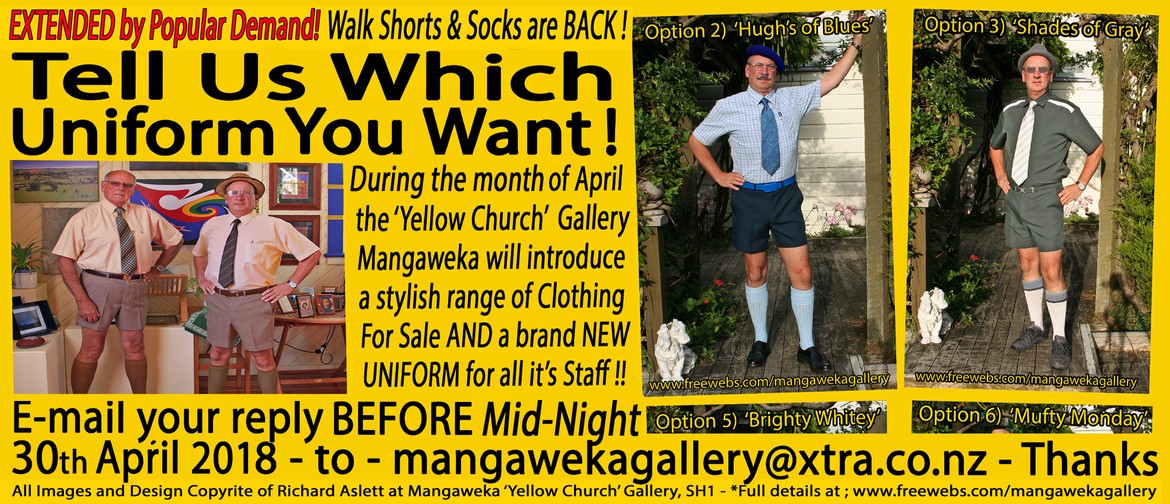 Restrictions
Listed by
From April 1st (& thru-out) we launch a brand new Stylish Range of Clothing and a New Staff uniform at Mangaweka "Yellow Church" Gallery, SH1.
Bringing back the Art of Chic Clothing, the new outfit is inspired by an 'old New Zealand classic' the once prevalent combination of 'Walk Shorts & Walk Socks' highly popular from the 50's right thru to the 80's, before seeing a steady decline, as a more casual & sloppy dress standard increasingly became the norm, before the turn of the last millennium...
Now they are back! Having sourced a bulk lot of this iconic clothing from the Civil Service surplus sales department, and also having acquired exclusive patterns and the services of a professional sewing machinist, the 'Yellow Church' Gallery has begun production and re-stocking these definitive items that will be for sale from 10am April 1st this year.
On the very same day, employees and staff will commence wearing the newly allotted uniforms.
U-Choose! (for large format pictures, go to www.freewebs.com/mangawekagallery).
In the following pictures we see Gallery owner Richard Aslett (right) and apprentice staff member Michael Cathels (left) inside the Gallery modelling one possible colour variety of the new uniform.
This version - Option 1) highlights the classic 'Beige & Browns' combination, which also harks back to the alternative New Zealand cricket kit team uniform of the 80's. Very smart and professional looking, and currently our top favored option; Yet we have other possible colour combinations for you to choose from for your own wardrobe and to decide what our staff will be wearing from April onwards!
(Other options are described and shown below).
What do you think? Tell us by return e-mail - mangawekagallery@xtra.co.nz (before mid-nite 30/04/18) with your preferred colour combination.
Other Options. At a star spangled premier review in the gardens of the 'Yellow Church' Gallery, which was attended by a crowd of over two gob-smacked onlookers, still further designs were modeled on the outdoor 'Cat Walk' by Resident Artist and Gallery owner Richard Aslett.
Option 2) Shows a delightful fruity French influenced 'Hues of Blues' combination. Option 3). Shows our shifty, sultry, and darker 'Shades of Gray' combo. Option 4) Unveils the Cool 'Cream & Green' look, in recognition of the lush green fields of the Rangitikei and the milk and cheese produced locally.
Option 5) Features the stunning 'Brighty Whitey' combination, which reflects the very original 'Walk Short & Socks' look, as first allowed to be worn by NZ public service workers in the 1950's. And finally Option 5) Shows the less formal 'Mufty Monday' combination, of checked and bright coloured Walk Shorts, mis-matched Walk Socks, striped Polo-shirts complimented with perky pink decorated Ties.
More news & interviews on the new uniforms and clothing range below.
We asked Gallery owner Richard Aslett about the refined 'new' look to be introduced at the beginning of April, and also raised staff concerns for non-compliance; "Staff were regularly turning up to work at the gallery in all sorts of differing garb, most of it very unkempt and scruffy, so I decided it was time to lift our game.
We asked apprentice trainee employee Michael Cathels what he thought about wearing the new uniform; "Overall I am quite happy as it is similar to what I used to wear when selling real estate in Auckland in the 80's. I am not too keen though on the stiff penalties of docked wages gallery staff will incur for failure to wear the correct components of the uniform.
We have already been told that long pants, or indeed any Walk Shorts that come below the top of the knee while standing, will not be allowed, and I think that could be a little chilly in winter. That said, there is no limit on how long the Walk Socks can be, so I am already having the machinist knit up an extra-long pair which will go right up to my thighs for the cooler winter months" said Cathels with a cheeky grin.
Post a comment
Did you go to this event? Tell the community what you thought about it by posting your comments here!