Jan Preston Trio '88 Piano's I Have Known'
121 Ponsonby Rd, Ponsonby, Auckland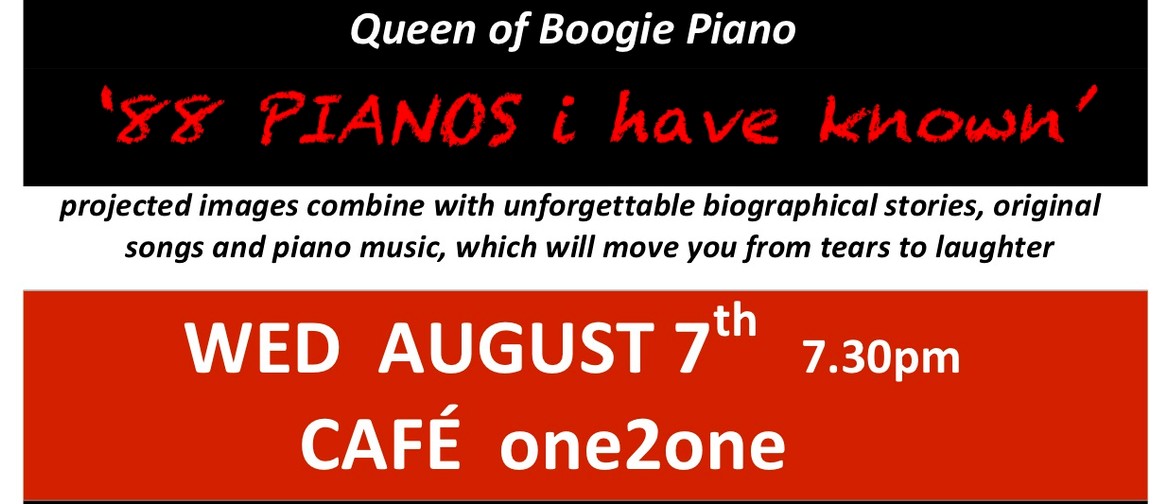 Restrictions
Listed by
Jan Preston '88 Piano's I Have Known ' August tour (18 dates) 2019.
The show I'm performing is called 88 PIANOS I have known with extraordinary images of pianos (yes 88 of them) and personal anecdotes, as well as new songs (Same Sky, Olds on the Loose) and a new killer version of a tune called Nutrocker, based on Tchaikovsky's Nutcracker Suite played in fast boogie style. I've been practising this a lot and my left hand is threatening to seize, well hopefully not until the end of the tour.
Come see Jan and her trio perform mid week in Ponsonby Auckland with doors opening at 7 pm, tickets online at Eventfinda or in person at the Cafe for $25, limited door sales from 7pm for $30
Yours in boogie,
Jan
My latest CD Play It Again Jan contains 13 tracks, mostly original, ranging from boogiewoogie piano (Gold Coast Boogie, Blues and the Boogie, Pumpin Paul), poignant songs, (The Sun Shines, Your Own Life) as well as humour (Queen of Cash, Scared of the Dark).
I'm thrilled with this CD, it's definitely my best!
Reviews:
One woman, a piano and a whole lot of talent - 3 Weeks Edinburgh
From boogie woogie to ragtime the air pulsates with the magical rhythms she produces….a forceful presence and a huge performance energy - ChCh Star NZ
One of the best pianists of our time, Preston masters the piano like a maestro juggling the keys. Her voice is suave and sensual, with finesse and sensibility - Crossroads France
Australia's finest female blues talent - Drum Media Sydney
This New Zealander is a discovery for friends of excellent boogie based music - Blues News Germany
Jan Preston is a crusader of the keys…she carries the torch for the piano culture - Melbourne Age
She sings with a delivery which speaks of empowerment and hope….she's got the blues in her heart, mardi gras in her fingers, and a Trans-Tasman attitude in her songs - Rhythms Magazine Australia
At the piano she is queen - ChCh Press NZ
Technically strong, full of character, dripping with life - American Blues Review
PS of course Jan was part of Coup D'etat and Red Mole back in the day.
https://www.audioculture.co.nz/people/coup-d-etat
http://www.janpreston.com/plenty of info here bio/blog/new cd
https://www.facebook.com/janboogiewoogiepreston
Post a comment
Did you go to this event? Tell the community what you thought about it by posting your comments here!