This event's been cancelled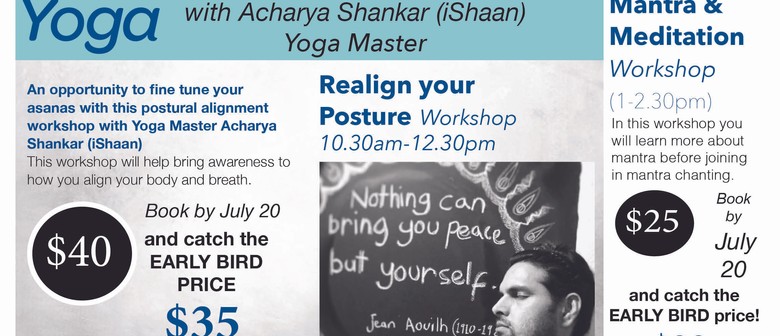 When:
Sat 3 Aug 2019, 10:30am–12:30pm
Website:
Buy your ticket by July 20 and pay the Early Bird Price of $35.

Realign Your Posture Workshop
An opportunity to fine tune your asanas with this postural alignment workshop with Yoga Master Acharya Shankar (iShaan).
Lack of practice, wrong sitting patterns, unawareness about how we walk and sleep, can put our bodies out of alignment and our breath can become shorter.
This workshop will help bring awareness to how you align your body and breath.
The workshop will finish with 15 minutes of mantra (sound) chanting meditation to help reduce stress, anxiety, depression or any kind of psychological disorder.
You will learn:
- Basic Knowledge of yoga postures
- Ways to perform yoga postures
- How to adjust different yoga postures
- Techniques to fix alignment of yoga postures
- The basic and core techniques to understand muscular system with each yoga posture
- How to create harmony between body, mind and breath during yoga posture