Unfiltered Live: Fall Forward
88 Federal St, CBD, Auckland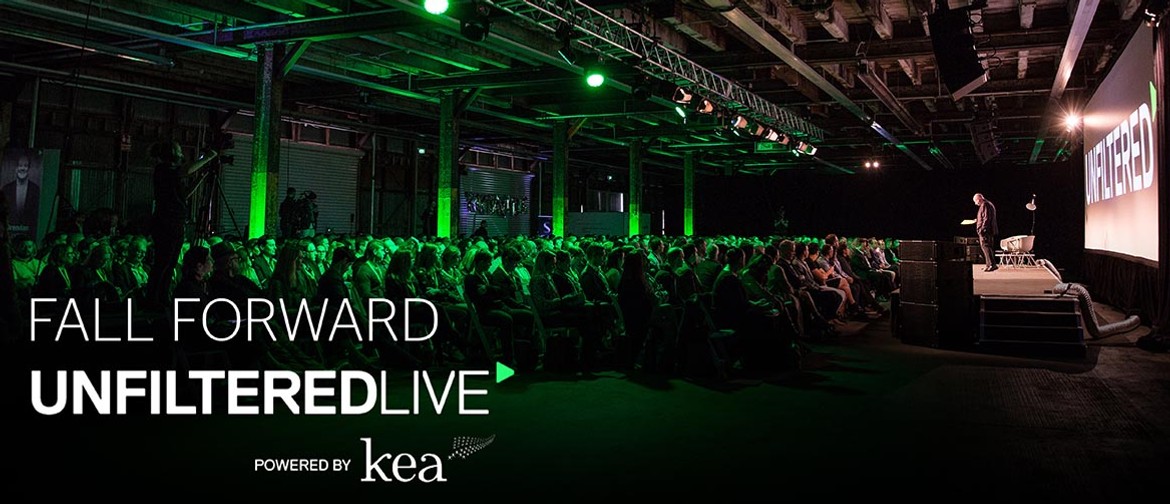 Restrictions
Website
Listed by
We all fail.
So why do only some of us bounce back and win?
Turn failure into your secret weapon.
Unfiltered Live: Fall Forward, powered by Kea, will teach you how the best become stronger through failure.
From the hottest Silicon Valley start-ups to the head of one of America's most significant organisations, Unfiltered Live will bring together top business leaders and entrepreneurs from around the world to share the biggest, most transformative mistakes they've made and how they turned devastating failure into global success.
Every speaker will take the stage for just 20 minutes each to share the three biggest mistakes they ever made in business, how they fixed them, and what they learnt from them.
You'll walk away with over 30 powerful insights and with the inspiration to relentlessly chase your dreams, no matter what challenges you face.
A day focused on mistakes, screw-ups, challenges and how to overcome the most serious of obstacles that entrepreneurs and business leaders face. It will be fast. It will be intense. And it will be totally Unfiltered.
With one attendee describing the day as "no nonsense, just straight up billion dollar advice," and 97% of attendees wanting to return, Unfiltered Live: Fall Forward is unlike any other business event.
The only real failure is not to try.
Super Early bird pricing expires 08.04.19.
Speakers:
- Dan Goldin, Former Administrator, NASA - USA
- David Rogier, Founder & CEO, Masterclass - USA
- Kevin Roberts, Former CEO Worldwide, Saatchi & Saatchi - UK
- David Bell, Co-Founder & President, Idea Farm Ventures - USA
- Dr. Elizabeth Iorns, Founder & CEO, Science Exchange - USA
- Tim Brown, Co-Founder & Co-CEO, Allbirds - USA
- Chris Heaslip, Co-Founder & CEO, Pushpay - USA
- Gary Hirshberg, Chairman & Founder, Stonyfield Farms - USA
- Naomi Ballantyne, Founder & Managing Director, Partners Life - NZ
- Jamie Beaton, Co-Founder & CEO, Crimson Education - USA
- Craig Piggott, Founder & CEO, Halter - NZ
- Gavin Faull, President & Chairman, Swiss-Belhotel International - NZ
Elite athletes panel:
- Liam Malone, 2x Gold Medalist, 2016 Rio Paralympics
- Eliza McCartney, Bronze Medalist, 2016 Rio Olympics
- Nico Porteous, Bronze Medalist, 2018 PyeongChang Winter Olympics
- Sarah Walker, Silver Medalist, 2012 London Olympics
Coming soon...
More speakers to be announced!
Post a comment
Did you go to this event? Tell the community what you thought about it by posting your comments here!