Author talk: Tara Black with Dylan Horrocks
57 Willis St, Wellington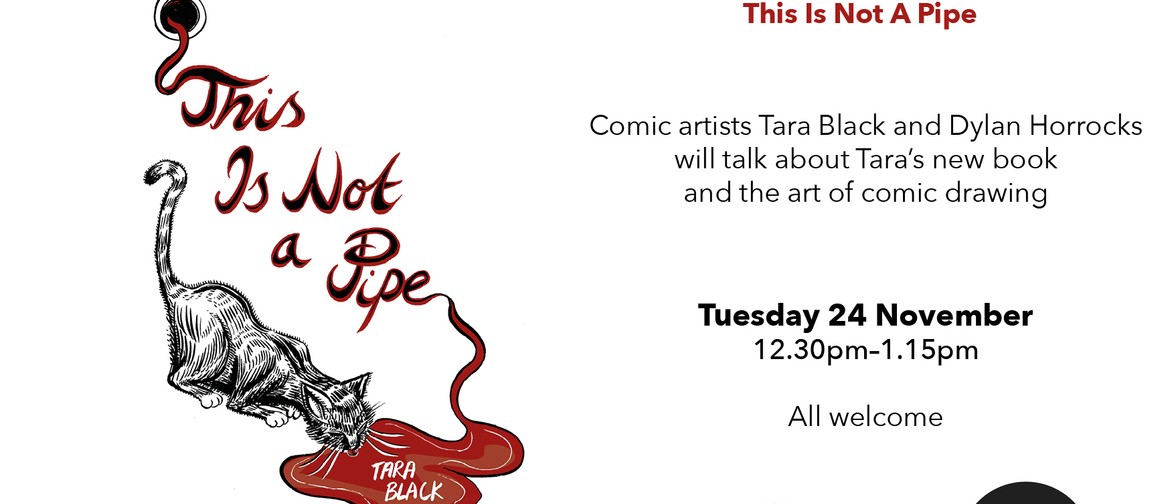 Restrictions
Website
Listed by
Join us to hear comic artist, Tara Black, discuss her amazing new book, "This Is Not a Pipe" (VUP), with fellow artist, Dylan Horrocks. All welcome.
About the Book
I've decided to document my life in pictures. It's hard to draw the pole, because of the pole.
Beth has a pole through her arms. This is not a metaphor. A metaphor would be a lot less inconvenient.
On the other side of the room, Kenneth is creating a new religion. He thinks narrative is the operating principle of the universe. He also thinks he's the hero of Beth's story. Beth is worried he's going to leave her. The creatures living in the pole may have stolen her cat.
Tara Black's comic is surreal, dark, sad, perversely joyful, and if you bet someone they couldn't find another book remotely like it, you would win. It's a little bit about being married to Kenneth. It's a little bit about losing your cat. It's definitely not about the pole.
I've been told I hold my pen wrong. But it's the only way I can.
"One of the most potent, unsettling texts I've encountered." - Tracey Slaughter
Poetic, whimsical and painfully honest." - Dylan Horrocks
"A strange and wonderful book, both surreal and very real." - Tina Makereti
"A freaking masterpiece." - Pip Adam
About the Author
Tara Black makes comics and sits in the front row of book events so she can draw the writers. Her work appears on The Sapling, Stasis Journal and her website, taracomics.com. This Is Not a Pipe is her first book.
Post a comment
Did you go to this event? Tell the community what you thought about it by posting your comments here!