This event's been cancelled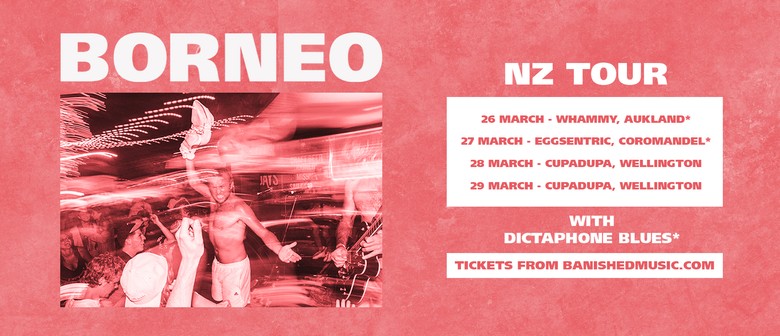 Where: Whammy Bar,

St Kevin's Arcade, 183 Karangahape Rd, Newton, Auckland
"Kia ora folks. Due to travel restrictions and the ongoing and evolving situation around COVID-19, we are cancelling Borneo's upcoming March tour to New Zealand, including their performance at Cubadupa festival.
We're disappointed, but we know that it's the only decision available to us, and know it is best for the health and well-being of everyone involved. We will reassess the situation in the coming weeks and months, and aim to announce rescheduled dates. Refunds will be processed automatically, and for now stay safe, and be good to each other." - Team Banished
Sydney Kung-Fu Rainbowrockers, Borneo are back in god's country (NZ) this March to play a run of shows including two performances at the infamous Cubadupa festival in Wellington; a headline show at Auckland's Whammy Bar; and their glorious return to Eggsentric Cafe in Whitianga, Coromandel.
Both Auckland and Coromandel shows will feature blistering sets of power from Auckland pop-stalwarts Dictaphone Blues, in support.
2018 saw Borneo release their sophomore EP release Rebel Mindtricks, a selection of witty and ever tongue-in-cheek songs that stayed true to their genre-bending roots; bringing together funk, disco, punk and pop influences.
Interim band manager Tubby John says the 5-piece relish any travel to NZ and will be "sharper than the 1996 Brumbies backline come tour time."
New Zealand audiences who experienced the band's 2016/17 summer tour with Arthur Ahbez and Dave Weir will know that Borneo live are a savagely entertaining tight 5, and bring the party wherever they land.
In what will be their first official shows since 2018, expect a good time.
Restaurants to book near Borneo: CANCELLED