This event's been cancelled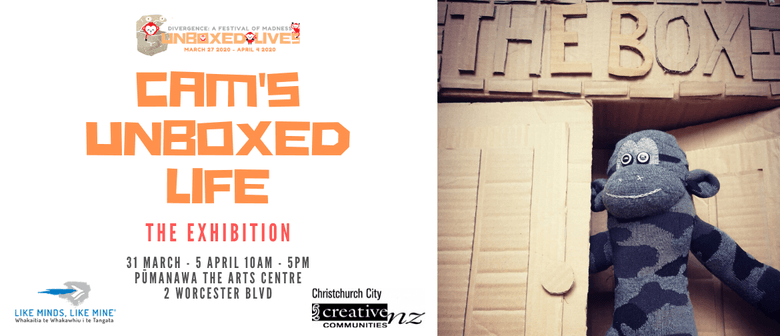 When:
Tue 31 Mar 2020, 10:00am–5:00pm
Wed 1 Apr 2020, 10:00am–5:00pm
Thu 2 Apr 2020, 10:00am–5:00pm
Fri 3 Apr 2020, 10:00am–5:00pm
Sat 4 Apr 2020, 10:00am–5:00pm
Sun 5 Apr 2020, 10:00am–5:00pm
Cam's Unboxed Life is a story of coming to terms with not fitting in to our community.
Mr Cam. O. Flage started life as all sock monkey's do as a baby, born to two very typical sock monkeys. Cam travelled thorough life accepting that he lived in a box and working very hard to conform to the parameters set by the cardboard around him, regardless of what life and the box threw at him.
However not matter how hard Cam worked, something always felt not quite right. As Cam grew in years, the typical sock monkey's around him started to more and more often notice that Cam wasn't matching up to the expectations of the box. This unsettled them, and their discomfort unsettled Cam.
Eventually they brought Cam to the attention of the Box Keepers, and Cam was deemed "Not Box Approved", and with that labelling he was swiftly exorcised from The Box. In the wilderness outside of the box, Cam initially tries with all his might to fit back in, to be accepted back into the fold. But no matter what he does, he cannot get the "Not Box Approved" label removed.
Eventually he starts to shift focus, from how to get back into the box, to what is actually outside of the box. He notices that there are others like him, who are Not Box Approved but who have established homes of comfort outside of the box. As he gets to know them, he hears the stories they have about their experiences and how they have come to not only understand but celebrate their Unboxed Lives.
Join Cam in his journey towards celebrating his own Unboxed Life, and consider for yourself whether you have some bits of your journey that are worth Unboxed also.
Restaurants to book near Cam's Unboxed Life - The Exhibition: CANCELLED