New Moon Sacred Cacao Ceremony
14 Fahey Ave, Tauranga, Bay of Plenty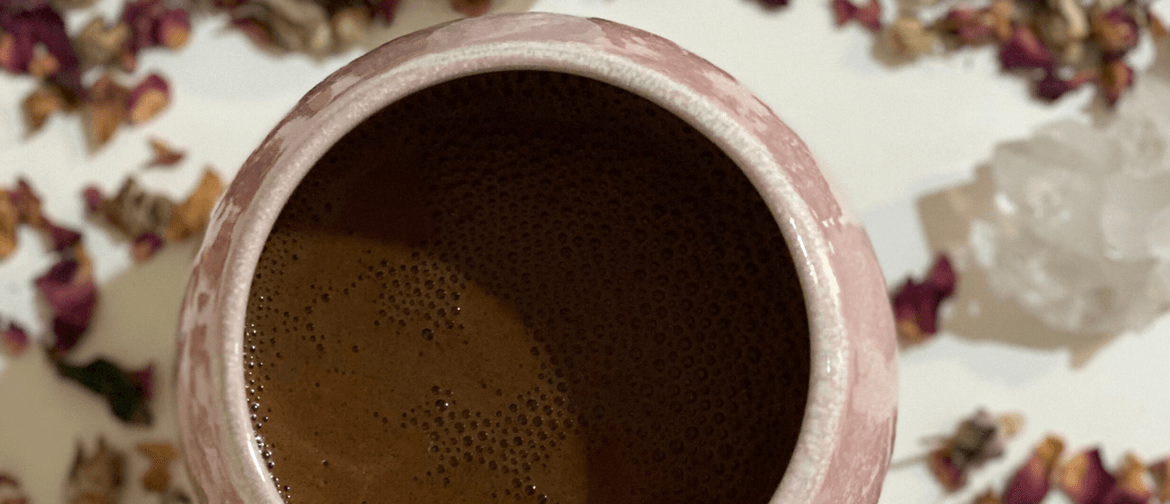 Ticket Information
Per person: $30.00

ea

Additional fees may apply
Restrictions
Website
Listed by
You are invited to join us for a special sacred evening which includes drinking the beautiful sacred heart opening drink Cacao, connecting with the New Moon and sharing from the heart and receiving any support, love guidance you are needing, pulling cards, meditation, movement, dancing and using sage and essential oils to enlighten, activate and ignite our souls to get clear on our desires and what we want to manifest into our lives.
Come and surround yourself with other gorgeous goddesses!
Please bring an instrument, crystals, cards, or anything you would like to add to the circle. I will be guiding us intuitively through deeper soul chats, journaling, and music with the option to move and dance freely.
There are limited numbers to keep it small and sacred. Please share with a couple of friends if you would like them to join.
The ceremony will run from 7:30pm- 9:30pm. We may go a little later but if you do need to leave that is totally fine.
I just want you to know you will feel welcome and safe in this space and if you feel there is anything you don't want to do that is totally fine sometimes you may not feel like dancing and want to just sit and be, every time we may have a different experience, so this is about tuning in and listening to what you are needing at the moment and accepting this.
I have been to many cacao ceremonies now and have had many of my own and every time it is similar but different depending on where I am at the moment, I have had times where I just wanted to sit and meditate and stay with myself and other times where I was dancing like crazy with ecstatic energy so just to give you a little insight and so you know. I encourage you to come with an open mind and let yourself be free. So looking forward to sharing this beautiful sacred evening with you!
Kirsten x
M: 021 02693180
E: kirsten@infuseyogaandoils.com
More about Cacao
History - Cacao ceremonies have actually been around for thousands of years, originating all the way back to Mayan and Aztec traditions in Central and South America, used for spiritual, medicinal, and ceremonial purposes for inner awakening and creative guidance. Pure cacao is used as a heart-opening medicine for people to safely experience awakening, revelation, and inner healing.
Cacao is used in a sacred medicinal ritual, where intentions are set, and once consumed, euphoric states are unlocked, negative emotions are released and we are able to connect to ourselves and the loving energy in our body.
What you can experience during a cacao ceremony:
- A heart-opening journey of oneness, love, and ecstasy.
- Healing therapy, releasing blocks, recognizing patterns, following your heart finding a connection to your highest self, your own power, and truth.
- A shamanic or spiritual journey.
- A space to enter into meditation – being able to silence the mind, connect to the wisdom and spirit within you.
A balance of masculine and feminine energies in the body.
Enhanced creativity
Raw cacao has been used for centuries to heal the mental, physical, and spiritual body. It is a natural and ancient plant medicine, with a high concentration of vitamins, minerals and is a powerful antioxidant.
Cacao also increases blood flow (oxygen and nutrients) to the brain as well as induces the release of feel-good endorphins. It enhances the immune system and lowers cholesterol and blood pressure.
Cacao is often used to change your perspective, enabling you to recognize and let go of repeated patterns or bad habits, release energetic blockages, and what no longer serves you.
Naturally packed with caffeine, cacao gives you a burst of energy that helps you focus and improve your memory and is said to be a big creativity enhancer and facilitator of deep inner meditation and connections.
Post a comment
Did you go to this event? Tell the community what you thought about it by posting your comments here!