Omata Estate Vineyard - Walk 5
15 Church St, Russell, Bay of Islands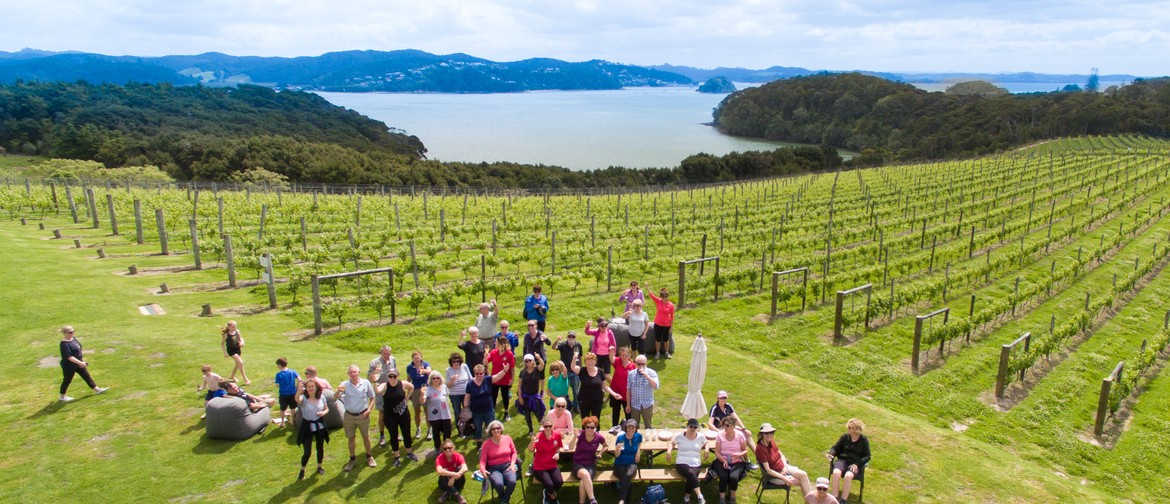 Restrictions
Website
Listed by
The Bay of Islands Walking Weekend
Omata Estate Vineyard - Walk 5
Omata Estate is a boutique vineyard situated in a stunning location on a sheltered hilltop with wonderful views across the vines to the bay. Their lovely old wooden hexagonal restaurant, brick paths, terraced and sunny garden are reminiscent of an old French vineyard, which creates a perfect atmosphere to sit back, relax and enjoy a glass of wine with a gourmet platter or delicious wood-fired pizza.
There are three Omata Vineyard Walks to choose from. All include wine tasting and beautiful food.
Each wine tasting goes through 5 different varietals of wine all grown on the property.
Friday afternoon/evening we have a walk that takes you to the vineyard for wine tasting and delicious wood-fired homemade pizza!
Saturday walk to the vineyard for a daytime experience of wine tasting and sumptuous platters! It's a hard choice!
We also have a walk for non-walkers who really just want to support their partners at the weekend (please see Bay of Islands Walking Weekend - Walk 5A - Omata Estate - A Walk for Non-Walkers)
This is a walk for those who like a small reward at the end - a few glasses of wine and some good food in a perfect setting!
Gather at the Russell Bowling Club for what is normally a very light-hearted walk.
Head through the township, past some significant heritage buildings, then up 'that hill' which signifies the real start of the walk. From there it is an easy pleasant walk down to sea level and through the stunning mangrove boardwalk, stopping briefly to learn about the fascinating history of Tikitikioure and its mining heritage. The stories of manual labour hardship and a hillside village that was, at its time, larger than Russell township.
Walkers carry on, thankful that we live in a day and age where manually chipping away at the mineshaft is behind us, and stroll around Orongo Bay taking in the extensive oyster farm operations. One more steep climb up and over, through well-established native bush. Plenty of birdlife and a rather cheery atmosphere to keep you well entertained, but still, your glass of wine will be well appreciated.
Your destination is the beautiful grounds of Omata Estate where you will be warmly welcomed. There is nothing more rewarding than doing some good old-fashioned exercise before settling down to a glass of wine and some beautiful food.
Friday 16th October
2.30pm. Arrive about 6.30pm at Omata Vineyard for wood-fired pizza and wine tasting.
Sat 17th October
11am - Arrive about 2.30pm for gourmet platters and wine tasting.
Duration – 3 Hours plus 1.5 hours at the vineyard, before taking the bus home
Distance 9 kms
Cost – Adult $55, Child $40 – includes food, wine tasting and transport back
Grade: medium to hard. A couple of steep hills
Maximum walkers - 20
Category - Family friendly – Children 10 years plus
All walks depart from the Russell Bowling Club in Russell. There are many walks to book on - so look at all the walks you can do over the 3 days. The walks are all guided and the guides are knowledgeable and passionate about the region.
Visit our website to see all the walks you can do.
For more on accommodation and what is on in the region - speak to Colette from Russell Information Centre: 0800 633 255 or (09) 403 8020 (Russell Office).
Post a comment
Did you go to this event? Tell the community what you thought about it by posting your comments here!