This event's been cancelled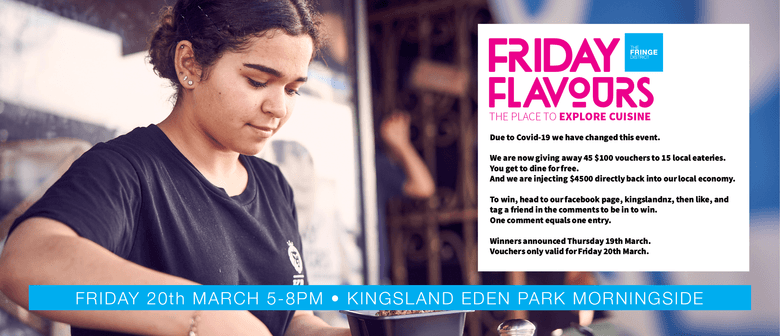 When:
Fri 13 Nov 2020, 5:00pm–9:00pm
Website:
Due to Covid-19, we have changed our Friday Flavours (20th of March) event.
Free giveaway!
We are now giving away 45 x $100 vouchers to our lucky winners to enjoy one of our participating 15 eateries we have here in Kingsland and Morningside for next Friday 20th March 5-9pm.
Simply go into the draw by:
- Liking our FB page kingslandnz
- Tagging a friend in the comments below
- 1 comment = 1 enter. Enter as many times you like.
We will draw & announce our winners the allocated eatery next Thursday 19th.
Good luck and comment away!
Friday Flavours will be back on Friday 13th November.
2020 is bringing you more flavour than even! The taste of Kingsland has grown across three united suburbs - Kingsland, Morningside and Eden Park!

The Fringe District presents Friday Flavours. Join us on Friday 20th March and November 13th, 5pm-8pm.

Come and tempt your tastebuds at this family-friendly event!
Sample and taste the flavours of our community for $3-10.
Meet our people who are passionate about food, dining, and our neighbourhood as an experience.

Catch the train to our hood and be part of the atmosphere of The Fringe District - Sensational food, Music, DJ's, Local Entertainment, Face Painters, and our passionate local eateries all working side by side to bring you Friday Flavours.

We are The Fringe District, and we are united in community, passionate about who we are, and our love of food!
Look forward to seeing you there!
List of free activities and entertainment coming soon to our Facebook pages.
Restaurants to book near Friday Flavours 45 x $100 Voucher Giveaway: CANCELLED