The Unsettling Trailer - RDYSTDY, Atlanta Eke and Ghenoa Gel
Online, Virtual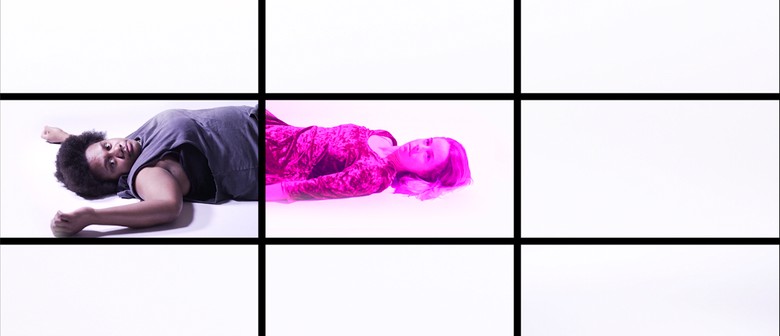 Tour
Restrictions
Listed by
The Unsettling Trailer is a nine channel video installation created in collaboration with RDYSTDY (NZ) for Atlanta Eke and Ghenoa Gela's The Unsettling, drawing on the niche genre of Horrorcore Hip Hop to explore the invisible violence of the colonial present. In looking at the question of whether a white Australian artist (Eke) and a Torres Strait Islander artist (Gela) can work outside the processes of appropriation and assimilation to co-author a new work, the artists merge the cinematic with the choreographic to create a supernatural horror film in real time.
This film will be shared on the Tempo Facebook and Instagram pages and will be online from the 27th August until the 27th September.
Choreography and Dance: Atlanta Eke, Ghenoa Gela
Video: RDYSTDY
Music: Daniel Jenatsch, Sezzo
Atlanta Eke lives and works in Melbourne. She is a dancer and choreographer concerned with dissolving pre-existing perceptions and expectations by changing fixed representations of the body through movement. She works with and beyond the limitations of the body, in collaboration with fellow dancers, artists and arts administrators in variety of contexts. Her work with dance is currently project specific, within each project a question for the next arises, along side an effort to deconstruct the modes of production and presentation of the previous work. Having recently had opportunities to present work in exhibition spaces, she is interested in how an exhibition space and timeframe can be utilized as a resource for developing dance.
Koedal (Crocodile) and Waumer (Frigate Bird) woman Ghenoa Gela is a strong Torres Strait Islander woman from Rockhampton, Central Queensland. Her background is in Torres Strait Island dance and since receiving a Diploma in Careers in Dance, she has been a Sydney based independent Performing Artist working across Dance, Circus, Television and Stage.
Ghenoa also facilitates dance workshops in urban, regional and remote communities. Ghenoa conducted dance workshops at the inaugural Boomerang Festival, as well as at regional and remote festivals. A highlights was helping to facilitate a program that helped an Aboriginal community to embrace new ways of creating new songs and dances for the future of their community.
Ghenoa's arts practice is inspired by her family stories and her passion to share her Torres Strait Islander culture. She aspires to inspire.
Artists Hana Miller and Jacob Perkins are founders of Ready Steady Studio (RDYSTDY), a visual production studio specialising in live and conceptual video. RDYSTDY have worked as collaborating artists on animatronic puppets for Disney, Cirque and Wynn Casinos with kinetic theatre company Michael Curry Design; created animation for Vice Magazine's online channel vbs.tv; collaborated with Atlanta Eke on Keir Choreographic Award winning Body of Work, The Unsettling with Ghenoa Gela and Genetrix with Victoria Chiu, Rudi van der Merwe, and Joszef Trefeli; Biometric Mirror with Mindy Meng Wang and Niels Wouters, mounted installations and performed at Carriageworks, MONA, Dark Mofo, SPLORE, Soundstage, the National, Australian Centre for Contemporary Art, NExT Lab Melbourne School of Design, Dance Massive, Adelaide International Arts Festival, Les Plateaux in Paris and Coil Festival in NYC; other moving image collaborations include video campaigns for fashion designers Otsumagic and Penny Sage, and AS IS audiovisual installation with jewelery artist Lisa Walker. All can be viewed on the website.
Spam alert: Protect yourself and your online accounts by only clicking on links from Tempo Dance Festival NZ in our social media postings. All other links are automatically generated spam and are not safe to open or respond directly to. Never give out your personal information through Facebook links or unknown websites.
Post a comment
Did you go to this event? Tell the community what you thought about it by posting your comments here!