Unfortunately, this event's been postponed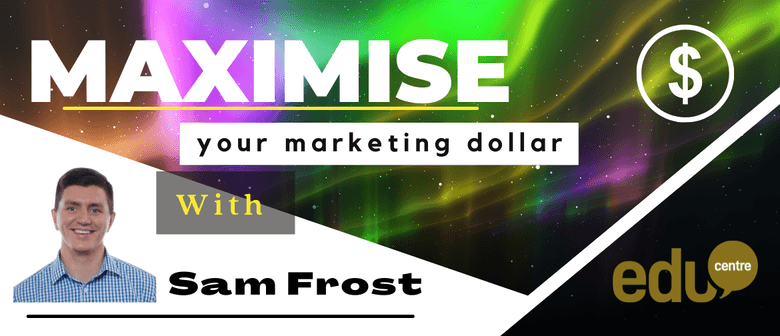 When:
Wed 15 Sep 2021, 1:00pm–2:30pm
Website:
Maximising your Marketing Dollar
Seminar Details:
Knowing how to market properly, and what marketing strategies are right for your business model is key to maximizing your marketing investment. You will learn how to effectively channel the best marketing strategy for your business in EduCentre's 90 minute seminar.
Learning Outcomes:
- Website Design: Content, functionality and SEO.
- Google My Business: Setup and optimization.
- Social Media Marketing: Picking the right platforms. What strategies work. How to optimise your activity.
- Email Marketing: How to do it for less cost. Why email marketing is so valuable.
- Paid Digital Advertising: Is this right for your business? Where to start. Tips for Social Media platforms.
- Freebies & Light Refreshments Included.
- Open Questions to Finish
EduCentre's Guest Instructor:
Guest instructor Sam Frost is a renowned marketing guru and marketing consultant with extensive experience in effective digital marketing strategies.
Workshop brought to you by:
EduCentre Ltd
New knowledge. New ways of thinking
Phone: 03 365-1441
Web: www.educentre.co.nz
Facebook: https://www.facebook.com/EduCentre.co.nz
Linkedin: https://www.linkedin.com/company/educentreltd
#personaldevelopment #businessdevelopment #opportunity #invitation #catered #newknowledge #development #newwaysofthinking #seminars #workshops #digitalmarketing #facebook #instagram #marketing #christchurch #canterbury #regionalbusinesspartner #socialmedia #advertising #ROI #SEO #websites #Christchurch #events #seminars #businesstraining #training #industrysecrets #educentre #optimization #digitaladvertising #website #design #websitedesign #networking #bestroi #digital #socialmedia #coaching #keynotes #SME #google #tips
People who liked this also checked out
Restaurants to book near Maximising your Marketing Dollar (EduCentre's Seminar): POSTPONED