Unfortunately, this event's been postponed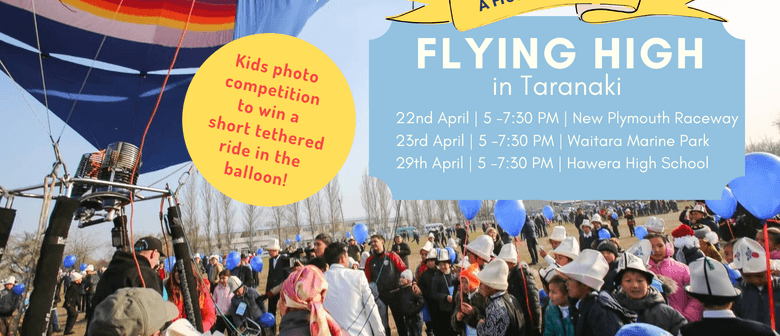 When:
Thu 22 Apr 2021, 5:00pm–7:30pm
In collaboration with Sustainable Taranaki, the Flying High Charitable Trust is bringing their hot air balloon to Taranaki this April 2021. The Flying High hot air balloon tour aims to promote and inspire sustainable innovation. The events will provide an introduction and pathway for kids and their families to live more sustainably, inspiring others to do the same, creating a positive change for future generations, as well as fostering innovation.
Energy, transport, waste, sustainable living and sustainable communities are just some of the themes that aeronaut, Andrew Parker, will chat about to inspire children and their families to think about how they can help to create a sustainable future for generations. Supporting Parker's discussions and short air balloon hover experiences for some participants, there will be a range of stalls hosted by local environmental and sustainability projects including organisations, schools and businesses. The stalls will showcase just how many sustainable and environmentally focused projects are already happening in Taranaki and to inspire the wider community to get involved.
Families with children, teachers and educators are encouraged to attend so as to take the learnings from these events back into the home and classroom. By involving families and educators, the impact of continuing these conversations beyond the events will have the biggest influence on our young people who are our future leaders and innovators. These events around the maunga will be a unique experience for many tamariki.
Kids photo competition details - for a short tethered ride in the balloon - https://www.sustainabletaranaki.org.nz/photo-competition
Restaurants to book near Flying High Project: POSTPONED