Heather Straka: Memoria
42 Victoria St, Te Aro, Wellington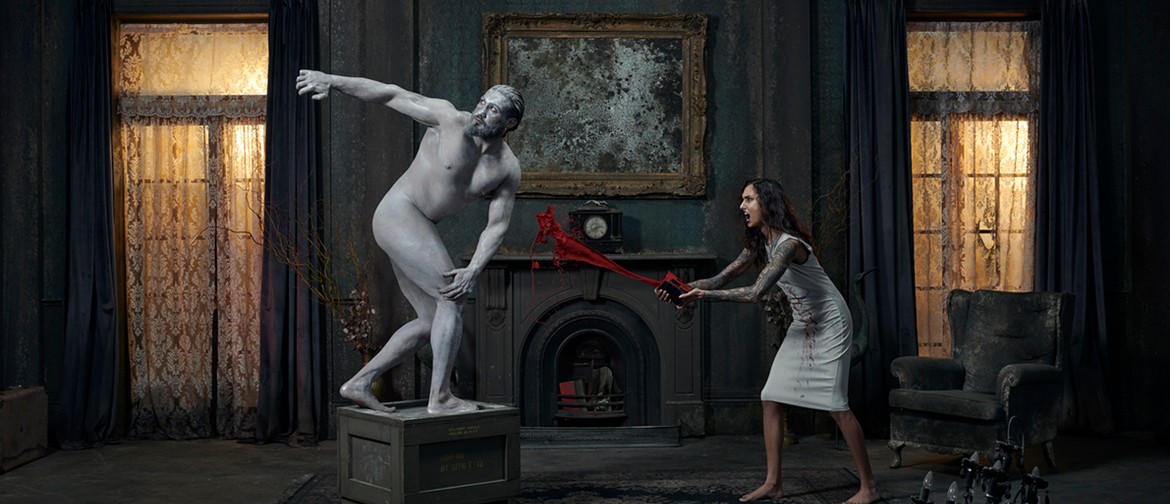 Restrictions
Website
Listed by
Auckland artist Heather Straka's recent works inhabit an eerie liminal space that sees them hovering somewhere between the worlds of painting, photography, and film.
Memoria unfolds inside a series of dilapidated interiors. The scenes and characters occupy a shallow space, dramatically lit, where the stark contrast between dark and light is evocative of the intense theatricality of paintings by old European masters such as Caravaggio or Rembrandt. In these works, Straka deftly draws together an amalgamation of contemporary global and political events, including the global pandemic, the rise of the #metoo movement, and the destruction and removal of sculptures and monuments to colonialism and patriarchal oppression in dozens of cities around the word, in a global groundswell to destabilise the politics of history and its sanctioned authors.
During 2019 Straka created several paintings to hang inside the dark and dusty turn of the century interiors for the television adaptation of New Zealand author Eleanor Catton's The Luminaries. Straka is fascinated with the notion of artifice – the idea of the fake or counterfeit is one she repeatedly returns to through her practice – and for the artist this experience acted as something of a natural precursor to the development of new works with an unprecedented level of production. Straka spent countless hours painstakingly designing and constructing sets for these works, inspired by a Germanic hotel from the 1930s, within which she situates and directs her protagonists. The resulting images appear as film stills – individual moments within an expanding cinematic narrative – and are in fact the continuation of a previous series, featuring the same characters that appear in Memoria.
A woman stands alone and barefoot in front of a hotel reception. Dressed in a grimy off-white dress, her hair is neatly pulled back, and she wears a red band around her upper arm. In one hand she holds half a pomegranate – often symbolically associated with life, fertility, power, blood, and death ¬– while her other hand raises the severed fruit to her lips. The image is heavy with foreshadowing, heralding a transformation. This same woman appears again, her hair now falling freely around her neck and shoulders, and her mouth open wide in a silent scream. She lunges forward, throwing a tin of red paint at a nude male figure –poised and painted white to resemble a classical sculpture of an idealised masculine form – the paint running down her front like blood. Behind the pair, peeling patterned wallpaper and lace curtains bleed into and mingle with the mould on the ornate frame above the fireplace, and into the tattooed arms of the protagonist. One image shows the artist lying prostrate in a casket, painted black with white satin interior, and piled with a bouquet of funeral lilies. Around the casket, standing and kneeling, a group of women have gathered. Each figure looks directly at the camera, their fixed stares challenging the viewer to look away.
Post a comment
Did you go to this event? Tell the community what you thought about it by posting your comments here!