Unfortunately, this event's been postponed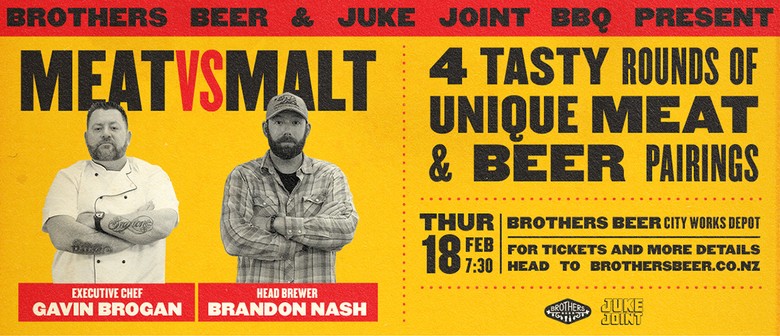 When:
Thu 18 Feb 2021, 7:30pm–9:30pm
Website:
Join us ring side at Brothers Beer City Works Depot to see our two heavy weights duke it out once again! Juke Joint Executive Chef Gavin Brogan and Brothers Beer Head Brewer Brandon Nash have trained intensely for 6 months to produce some truly outstanding beer and culinary combos.
Brandon and Gavin will run you through a guided tasting on both the food and beer prior to eating. Your ticket includes a 150ml taster of all beers which are all perfectly matched with some of Gavin's latest creations. Food will be served around the venue on platters.
At the end of the evening scores from each round will be tallied up and we'll crown our new Meat vs Malt champ. Can Gavin defend his title or does Brandon have some new tricks up his sleeve that will see him take home the victory? Only time will tell!
On the menu:
Round 1: Smoked Chorizo Gazpacho vs Brothers Beer '¡Viva La Haze!' Hazy Ipa
Round 2: Oysters Three Ways vs Brothers Beer 'Howzat!' XPA
Round 3: Beef Brisket Matched vs Brothers Beer 'Houble Dazy' Double Hazy IPA
Round 4: Sweet Pork Burnt Ends vs Brothers Beer 'Piña Coladaberg' Pineapple and Coconut Sour
Very limited tickets available, and our last event sold out completely so get in quick!
Grab your tickets here: https://brothersbeer.co.nz/collections/merchandise/products/meat-vs-malt-2-0
Brothers Beer City Works Depot also hosts a wide range of New Zealand craft beers you can purchase and take home. The bar will also be pouring beers all night.
See you there!
Restaurants to book near MEAT vs MALT: ROUND TWO: POSTPONED