Poker Night – Texas Hold'em Tournament
79 The Strand, Whakatane, Bay of Plenty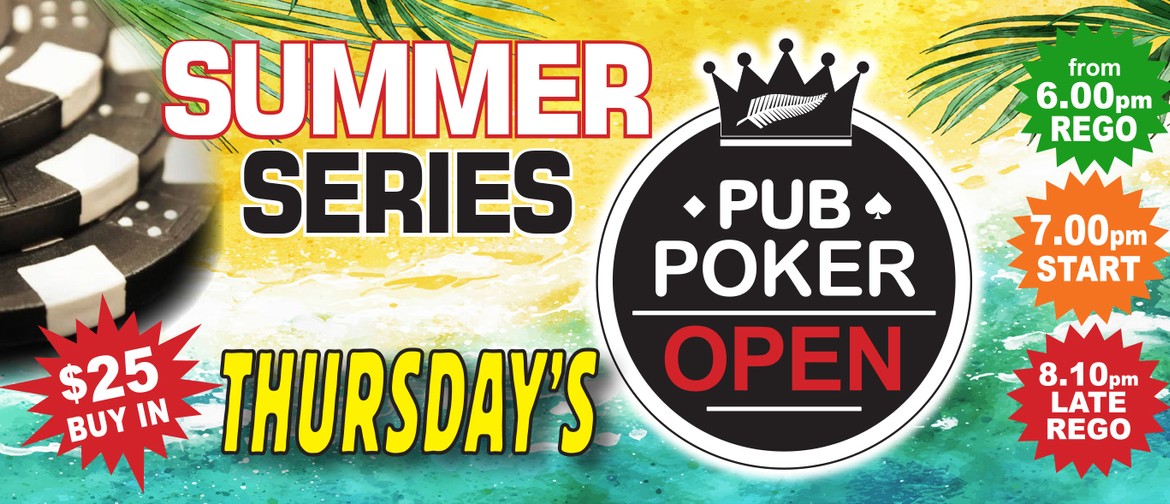 Restrictions
Listed by
Going to be in Whakatane, Bay of Plenty, Thursday night? Don't be afraid. Thursday night poker is alive!
Have you been playing poker for a day? A Week? A Lifetime? No matter your skill or experience, our weekly game, every Thursday night, has a place for you!
- Rego from 6:00pm
- Super Early Bird Chip (5000) cuts off at 6:30 pm
- Early Bird Chip (1000) cuts off at 6:45 pm
- Bring a new player along, both you and the new player get an extra 5000 poker chip each
- Extra Poker Chips can be won by buying Raffle Tickets..$2:50 each
- Tournament Start's 7 pm (Cards fly on the Felt)
- Late entries allowed until 8:15 pm (end of the first break)
- 2 x Dealers provided per table (each receive a 5000 poker chip)
- $10 Club Membership - lasts till end of October 2022
$25 buy in, ($20 goes into prize pool, $2.50 for Royal Flush Jackpot....payout up to $500.00 & $2.50 for 1 x Raffle ticket to go into draw to win more poker chips.)
.... plus 2 x $20 rebuy's and 1 x $20 Add on allowed until end of first break.
Friendly TD with a smile.
Great friendly environment.
Great weekly Cash & Prizes to be won!
Come along for a great evening of entertainment!
Food and Drink points start from 6 pm for extra chips, ends at 9:15pm (start of 2nd break).
Poker Player Beginners Welcome
Turning strangers into friends and friends into family, one Tuesday poker night at a time!
Got a question you need to be answered about this event? Phone us now on 027 2222 800
- (All RED Traffic Light, Covid 19, NZ Health Guidelines Apply)
- Tables open from 6 pm
- Free off-Street Car Parking at rear of pub
- Easy Wheelchair Access
Post a comment
Did you go to this event? Tell the community what you thought about it by posting your comments here!