Bach Choir of Wellington: Bach, Corelli, & Handel
17 Boulcott St, Te Aro, Wellington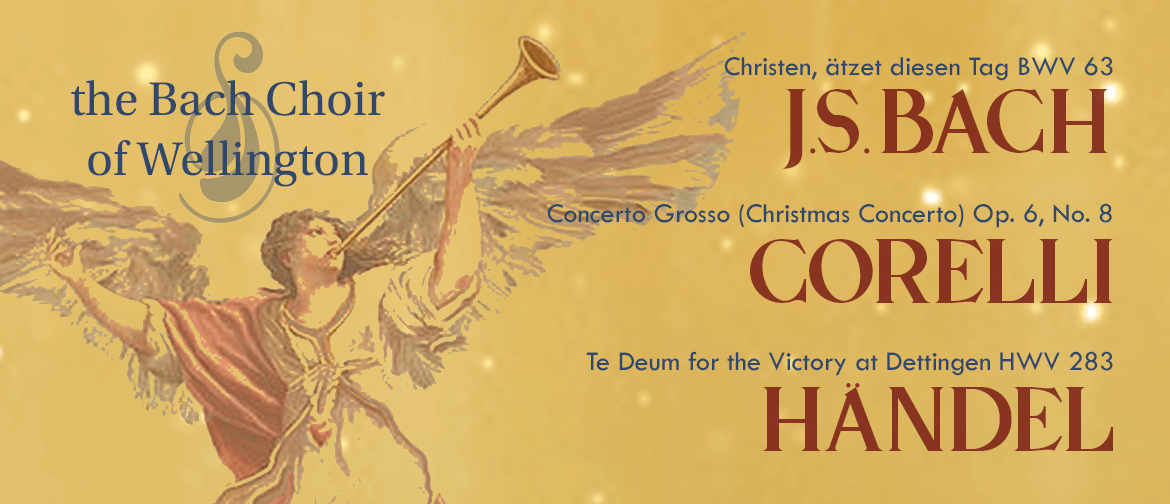 Restrictions
Listed by
In their final performance of 2022, the Bach Choir of Wellington and the Chiesa Ensemble present three works befitting a time of celebration.
Christen, ätzet diesen Tag (Christians, etch ye now this day) BWV 63 by J.S. Bach was first performed on Christmas Day 1723 in Leipzig, but originally written around Advent of 1714-15, when Bach was still in Weimar. This festive work features a large orchestra, including four trumpets, three oboes, strings, and choir; a richness of scoring equalled but never surpassed. The trumpets, timpani, and choir begin with pompous fanfare that reflect the excitement and joy of the Christmas season.
The Chiesa Ensemble present Concerto Grosso by Arcangelo Corelli. This work was commissioned by Cardinal Pietro Ottoboni and carries the inscription, 'fatto per la notte de Natale,' (made for the night of Christmas). This piece was likely premiered in 1690 and is a sterling example of Corelli's compositional mastery. The work creates a serene, lovely atmosphere and in a minor key no less! The pastorale, saved for the final movement, is a glittering jewel that sets off the rest of the work.
G.F. Händel's Te Deum for the Victory of Dettingen HWV 283 was first performed for King George II on the morning of 27 Novermber 1743 in the Chapel of St James's Palace, London. The work itself is a ceremonious hymn of praise in honour of the King's defeat of the French at Dettingen am Mein in the Austrian War of Succession. This triumphant work illustrates how masterfully Händel captures and recreates through music the tone and experience of a truly festive occasion.


Post a comment
Did you go to this event? Tell the community what you thought about it by posting your comments here!