Chakras & Prana Vidya Yoga & Meditation Retreat
727 Bird Road, Bird's Clearing, Takaka, Golden Bay, New Zealand, Golden Bay, Nelson / Tasman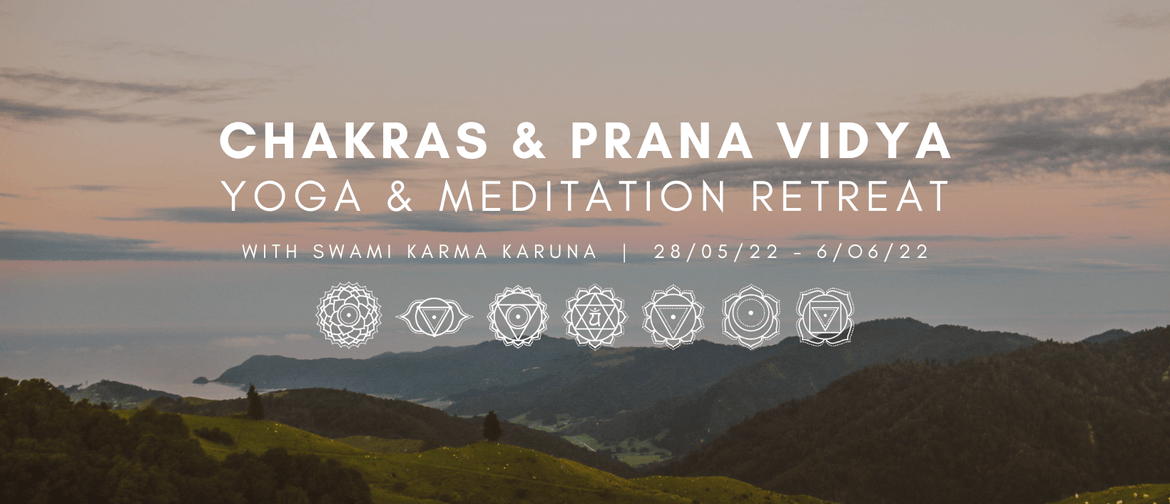 Restrictions
Website
Listed by
With: Swami Karma Karuna
Saturday 28 May, 2022 - Monday 06 June, 2022
Enjoy yogic techniques such as Hatha Yoga, Yoga Nidra, Prana Nidra, Meditation, Karma Yoga, Fire Ceremony and Kirtan to transform and enhance the body's vital flow of energy (prana) and subtle energy centres (chakras).
Early Bird Discount if full payment made by 15th May 2022.
RETREAT OVERVIEW:
Embark on a journey using classical yoga practices to explore the chakras, the subtle energy centres within your body, which influence every aspect of your life from your daily experiences to the spiritual realm. They are a framework to understand your physical health and challenges, the nervous system, energy levels, mental well-being, emotional states and more subtle layers of existence. The flow or block within your chakras and energy channels determine many aspects of life.
Explore the traditional symbology, glands, physical components, psychology, mantras, animal representations, states of health or blockage and more about each chakra. Learn about how the chakras influence your relationship with yourself and others. Gain tools to improve your health, awaken creative abilities, enhance your strengths and overcome challenges. Get to know your 'self' more deeply and learn the ancient ways to expand and liberate yourself in the context of the modern world.
Integral to the experience of the chakras is the exploration of the pranic channels. Explore Prana Vidya techniques to enhance the flow of energy in your body as well as discover methods to conserve and direct Prana for health and wellbeing, to support healthy organ systems, mental and emotional clarity and equanimity.
Knowledge of Prana is knowledge of the universe. Everything moves because of Prana, it is source, means and destination. Prana (energy) Vidya (knowledge) is an ancient and powerful meditation that deals with the system of prana for healing and spiritual awakening. Prana Vidya is both a final goal of total awakening, however, it is also a process, which focuses on activating, directing and enhancing the vital energy.
THE RETREAT INCLUDES...
- Hatha Yoga classes focused on the Chakras
- Pranayama, Mudras and Bandhas
- Guided Prana and Chakra Meditations
- Group discussions
- Yoga Nidra (deep relaxation)
- Prana Nidra
- Karma Yoga (action with meditative awareness)
- Fire Ceremony (Havan) and Chanting (healing sound vibration).
To book now, please email: yoga@anahata-retreat.org.nz
Post a comment
Did you go to this event? Tell the community what you thought about it by posting your comments here!