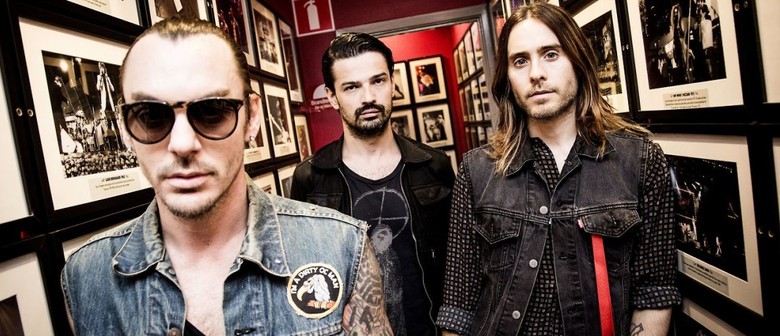 30 Seconds to Mars is an American rock band from Los Angeles, formed in 1998. Since 2007, the band has been composed of actor Jared Leto (lead vocals, rhythm guitar, songwriter), Shannon Leto (drums, percussion) and Tomo Miličević (lead guitar, keyboards). Following the departure of Matt Wachter (now of Angels & Airwaves) in 2007, Tim Kelleher became the bassist for the group, performing live only with both Jared and Miličević recording bass for studio recordings, while Braxton Olita (keyboards) was added to the touring lineup in 2009. Previously, the group also featured guitarists Solon Bixler (now of Great Northern) and Kevin Drake.
30 Seconds to Mars have released three studio albums – 30 Seconds to Mars (2002); A Beautiful Lie (2005); This Is War (2009) and three extended plays – AOL Sessions Undercover, A Beautiful Lie (2007) and To the Edge of the Earth (2008).
A Beautiful Lie earned the group a number of awards and nominations, winning three MTV Europe Music Awards and three Kerrang! Awards among others.
(Source: Wikipedia)
Past events by 30 Seconds To Mars