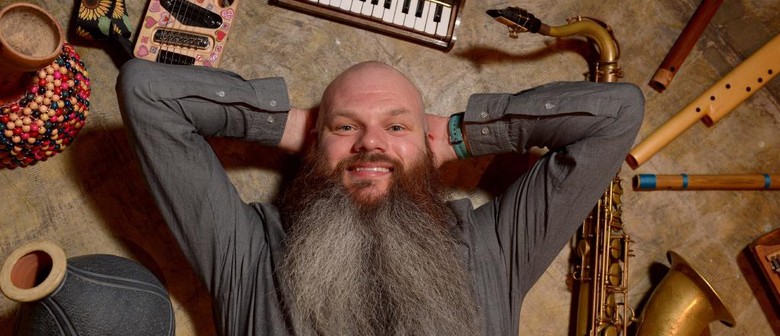 Hailing from Adelaide Sth. Australia and now living in Wellington NZ, critically acclaimed multi-instrumentalist Adam Page has been performing his multi-instrumental looping show around the world since 2006.
Page is at the forefront of a unique style of performing, recording live instruments into loop pedals and spontaneously composing intricate grooves in many different styles. Primarily a saxophone player, the instruments Page loops are as diverse as bass, keyboard, percussion, vocals, Tuvan throat singing, beat boxing, guitar, ukulele, flute, clarinet, kalimba and didgeridoo
Page's awards include Best Music by an Emerging Artist at the 2007 Adelaide Fringe Festival, Best Music and Best Solo Show at the 2009 New Zealand Fringe festival, Best Music at the 2011 Adelaide Fringe Festival and in 2012 was nominated for a Freedman Fellowship in Australia.
Adam's collaborations stretch far and wide, working with artists and groups such as Strike, Stroma, John Psathas, Katie Noonan, Riki Gooch, Band of Thousands, The Shaolin Afronauts (ARIA award nominees), Louis Baker, The Transatlantics, The Adelaide Sax Pack, Darren Percival, Mal Webb, Lisa Tomlins, late Indian sitarist Dr. Chandrakant Sardeshmukh, James and John Morrison, The Wellington International Ukulele Orchestra and The Wheatsheaf Ukulele Collective, while also recording with artists such as Electric Wire Hustle, Christoph El' Truento, Oisima, The Shaolin Afronauts, Nico Suave and Dave Whitehead (recording various sounds for The Hobbit).
Festivals played recently include WOMADelaide, WOMAD NZ, The Big Day Out, Edinburgh Fringe, Adelaide Fringe, Melbourne Fringe, NZ Fringe, SPLORE, Hamilton Garden Arts Festival, Erupt Taupo Festival, Queenstown Jazz Festival and the National Jazz Festival in Tauranga.
Adam is also the host of FixTV, an online TV show and has composed and performed the music for Chapmann Tripp nominated play 'Into the Uncanny Valley', directed by Charlie Bleakley, written by Jean Betts and designed by Joe Bleakley (art director for The Lord of The Rings trilogy and King Kong).
Source: adampage.prosite.com
Image: Myspace