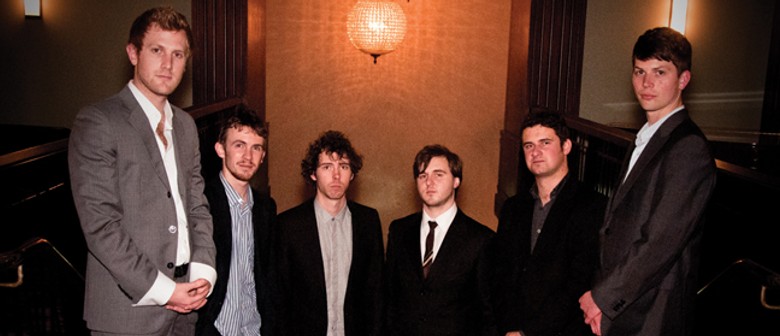 Astro Empire are a six piece band from Wellington playing a mix of acid jazz, soul, R&B and funk. This is the kind of music that requires great chops to pull off and these guys have got it in spades. All have been or still are students of the New Zealand School of Music's prestigious Jazz Performance course and it shows. After six months of solid composing and rehearsing they started playing live shows in mid 2011.
The group consists of three well matched pairs. There are the two frontmen, Louis Thompson-Munn on keys and Dave Kempton on guitar, who take turns as main vocalist. Louis' soulful edge is akin to Jay Kay of Jamiroquai and is offset nicely with Dave's more Buckley-esque style. The next pair is the tight rhythm section of Leon Philipsen on bass and Shaun Anderson on drums. The two can play off each other through a wide range of levels of subtlety and complexity or masterfully lay down a down a massive groove. The final pairing is the horn section of Ben Hunt on trumpet and Jake Baxendale on sax who can go from mournfully subdued to ecstatically huge.
Together the sextet lift the well-crafted compositions of Louis and Dave from page to stage with an infectious energy that keeps audiences up on their feet.
Source: www.astroempire.co.nz
Past events by Astro Empire