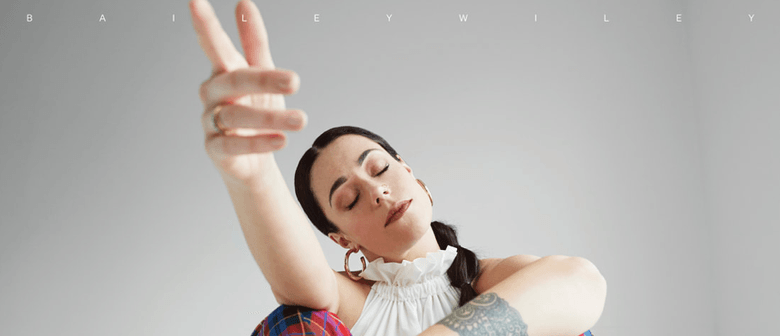 Bailey Wiley's got soul, and she knows a thing or two about rhythm and blues.
Born in Hawera, Taranaki, Bailey grew up with the vintage sounds of 60s/70s soul and funk, the syncopated grooves of the late 90s/early 2000s RnB, and smooth glide of neo-soul, singing up a storm along the way. She studied performing arts in Christchurch and Dunedin and caught ears in Auckland with a soulful take on trap. Following that, Bailey decamped to Berlin to pen some new tracks, before returning to New Zealand and settling down in Auckland.
Bailey's released three projects in five years, Inevitable, IXL, and S.O.M.M, racking up the Airpoints along the way performing around the world alongside the likes of Charlotte Day Wilson, SZA, Ladi6, Jess B, Tokimonsta, Rubi Du, Eno x Dirty, and Melodownz, headlining her own shows, and featuring in Fly My Pretties. Sniffers described her as, "taking the spirit of classic R&B and neo-soul, and reframing it inside modern electronic production," and Noisey said 'Never Ever,' her collaboration with Miloux, "Will melt you." A performance highlight was going to the states and being the only Kiwi who was chosen to perform at Red Bull's '30 Days in Chicago', a one-month festival where she opened for Syd of The Internet fame.
Last year, Bailey divided her time between youth mentoring projects, and recording in Red Bull Studios Auckland with producers Soraya LaPread, ENO, S.F.T, musicians Julien Dyne, Guy Harrison, Sam Jones, and the Auckland Philharmonia Orchestra, taking time to produce her self titled EP, arriving in 2019 via A Label Called Success.
The first single from her new project was 'Sugar' is an S.F.T produced bop featuring a guest rap from soulful Avondale local Melodownz. The track reached number one on Radio Active FM, and spent eight weeks in the Hot NZ Singles Chart, peaking at number seven.
Arriving on May 17th, the full six track EP is a refined selection of this process, from the sassy 'Zaddy' along with animated video, or the love struck 'Between the Lines'. This EP is the essence of Bailey Wiley, and the arrival was celebrated with the announcement of a five date New Zealand tour.
Her golden voice, dignified presence, and heartfelt songwriting are the product of perseverance. Focusing on quality over quantity, this EP developed over a meaningful and tumultuous period of Bailey's life, the final product arriving with the benefit of retrospect and maturity. Bailey describes the project as 'open and honest. It's important to release music you absolutely love. Throughout the writing process, I went through some very confronting moments, creatively and in my life. The songs are all individually special and carrying their own truths." Life held her to the fire, and in the heat of the moment, she came to terms with what really matters.
With an ever-expanding discography, the success of her new self-titled EP under her belt along with a nationwide tour to tie it all together, 2019 marks another momentous year for Bailey Wiley.
Previous Events and Festivals –
Red Bull 30 Days In Chicago, Wondergarden, 2015/16/17 Fly My Pretties nationwide tour run, Fly My Pretties String Theory Nationwide tour run & live recordings 2016, Music at Matua, Rhythm & Alps, Rhythm & Vines, Northern Bass, Bay Dreams, Soundsplash, Britomart Block Party, Summerdaise, Ladi6 Alpha Sessions, Splore, Silver Scroll Awards, Red Bull Sound Select 16/17, Lollapalooza (Berlin), Melt (Berlin), Twisted Frequency festival, Ted X Auckland showcase, frequent live performances nationwide
Featuring / Tracks & Albums –
Raiza Biza, PNC, Jay Knight, Mercy, Third3ye, Diaz Grimm, Mr Carmack, Laughton Kora, K-Lab, Melodownz, Sola Rosa, King Kapisi, Tiki Taane, Che Fu, Warren Maxwell, State of Mind, Team Dynamite
For bookings and more info:
JAZ KAPOW
+64 21 128 7475
jaz@twicethehype.co.nz
www.twicethehype.co.nz
Past events by Bailey Wiley