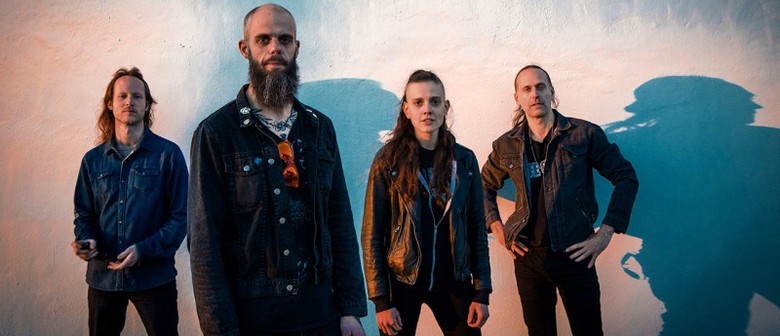 Baroness play an eclectic brand of heavy metal, embracing the ferocity and sharp technique of new-millennium metal but with melodic accents and intelligent guitar work that suggest the influence of indie rock and post-punk bands. The four members of Baroness - John Baizley on guitar and vocals, Brian Blickle on guitar, Summer Welch on bass, and Allen Blickle on drums - are all originally from Lexington, Virginia, but they pulled up stakes and relocated to Savannah, Georgia, when they formed the band in mid-2003.
Baroness made their recording debut in 2005 with First, a three-song EP released through Savannah-based indie label Hyperrealist Records. A second EP from Baroness, simply called Second, appeared in stores later the same year. In 2006, Baroness teamed up with another offbeat but powerful band from Savannah, Unpersons, for a split EP entitled A Grey Sigh in a Flower Husk, released through At a Loss Records. In 2007, Baroness signed with the well-respected independent metal label Relapse Records, and in the fall of 2007 they issued their first full-length disc, The Red Album, followed by extensive touring. Guitarist Pete Adams joined the band in 2008 replacing Brian Blickle. In the fall of 2009, the group released its sophomore effort, Blue Record.
Baroness spent the following year touring, opening for bands like Metallica, Mastodon, and Deftones before heading back into the studio to begin work on their third album, Yellow & Green, which would arrive in 2012. After the release of the album, while on tour in England, Baroness were involved in a terrible accident when their tour bus went over the side of a viaduct near Bath, falling 30 feet. Though many of the bandmembers and their crew were injured, with Baizley suffering a broken arm and leg and Blickle and bassist Matt Maggioni (who had earlier replaced Summer Welch) both hospitalized with fractured vertebrae, there were no fatalities.
After recovering from their injuries, Baroness began scheduling tour dates again in 2013, though the announcement they would be on the road again was followed shortly by the announcement that Blickle and Maggioni would be parting ways with the band. Bassist Nick Jost and drummer Sebastian Thomson were recruited to take their place, and made their live debut on a headlining tour later that year.
The live album Live at Maida Vale would arrive in the summer of 2013, and would be the last release from the band to feature their pre-accident lineup. After a period of recovery and encouragement from Metallica's James Hetfield (who had survived a bus crash that killed bassist Cliff Burton), Baroness re-entered the studio with producer Dave Fridmann (Flaming Lips, Sleater Kinney, etc.) and recorded ten new songs that dealt with the crash, its aftermath, and the band's determination to continue. The album Purple was issued on the band's newly formed Abraxan Hymns label in the fall of 2015. - By Mark Deming