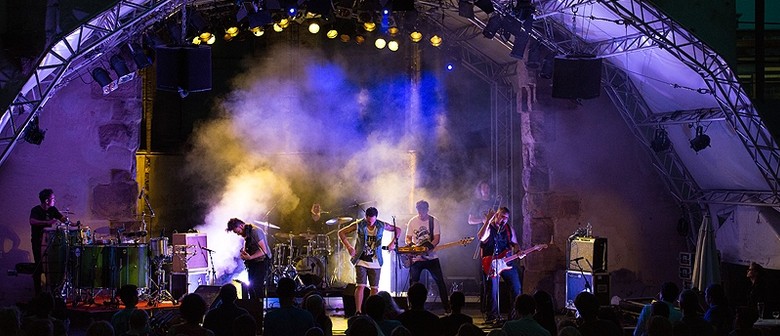 Website
Batucada Sound Machine's reputation is unquestionably in their live performance. A band that thrives in a festive atmosphere, BSM are renowned for getting crowds moving whether performing in Europe, Asia or Oceania.
The band's percussion-heavy rhythm section, blazing horns, chunky guitars, and soulful vocals all fuse effortlessly, intertwining Brazilian, funk, hip-hop, afro-beat and Pacific-soul influences.
While still based in New Zealand, this '10-piece beast' has captivated audiences at many well-respected events around the world including Womad (UK), The Edinburgh Fringe Festival, The Afro Latino Festival (Belgium), Wereldfeest (Holland), and Ollin Kan Festival (Portugal). In 2010 and 2011 the band toured Europe performing over 50 shows in 8 countries, including the main stage at the Sziget Festival, Horizonte Festival (Germany), Kulturarena (Germany), Larmer Tree Festival (UK) and the City of London Festival (UK).
At home, they have performed at New Zealand's biggest events, including Splore, Parihaka, Rhythm & Vines, Big Day Out to name a few.
Their debut album "Rhythm and Rhyme" (2007) produced by acclaimed music creator Neil Sparkes and mixed at the legendary Avatar Studios, quickly climbed to the top of the Independent NZ Music charts.
Their brand new album "Don't Keep Silent" was mixed by Bob 'Bassy' Brockman and is due for New Zealand release in January 2012.
Discography:
- Album – Don't Keep Silent (NZ Release Jan 2012)
- Album - Rhythm & Rhyme (October 2007)
- EP - Live At The Bowl Of Brooklands, recorded in 2005 at WOMAD festival in Taranaki, New Zealand
Batucada Sound Machine - Kudos
"When a band causes the audience to stamp their feet for an encore… after they just played the encore, it's pretty obvious their performance was shit-hot…"
Raciroo, Perth Festival review, Faster Louder
"As the numbers suggest, the sound BSM make is massive, with a horn section, a seven-piece percussion line-up, MC and drums. Their high-energy gigs take in a breathtaking variety of tempos, timings, beats, styles and rhymes. They sing in Portuguese, Spanish and English and have drawn favourable comparisons with Ozomatli, Manu Chao and Chico Science" - Claire Prentice, Scotland on Sunday
"…as kinetic and unconfined as any dance record you'll hear anywhere in the world…" - Nick Bollinger, Radio New Zealand National (Album Review "Rhythm & Rhyme")
"…Take stand-out Cumbia del Cambio, a… track that starts with a skanking dub groove, gives way to a more frenetic Latin rhythm that's backed up by clattering percussion, then it warps into a sonic, banging dance floor anthem until it ends with a scream and celebratory" blasts of horns. - Scott Kara, New Zealand Herald, (Album Review "Rhythm & Rhyme")
"This is an outrageously impressive journey in rhythm and groove - red hot percussion, smoking horns, serious funk that just makes you move and feelgood. This album should be on every party playlist this summer." - Daniel Wrightson, Uno Magazine ("Rhythm & Rhyme")
"BSM are incontrovertible proof that the cutting edge of Latin music has reached the Antipodes." - Nige Tassel, WOMAD
"Festival headliners sooner rather than later is my guess: and with barbecue season almost on us they will be getting their time in the sun at my place, that's for sure." - Graham Reid, elsewhere.co.nz