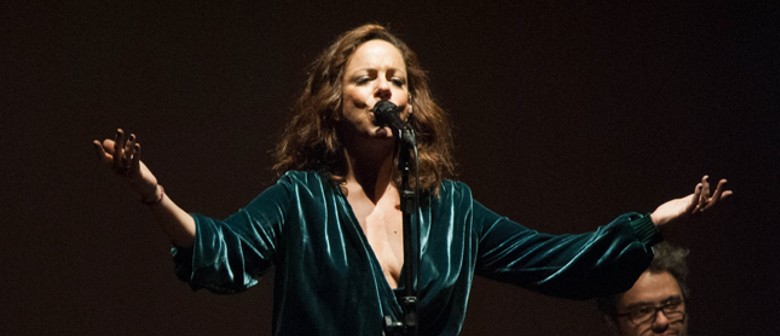 Bossa nova vocalist Bebel Gilberto has partnered with such world-famous artists as Kenny G, David Byrne, Amon Tobin, Smoke City, the Thievery Corporation, Towa Tei, Caetano Veloso, Chico Buarque, and João Gilberto. Gilberto has also enjoyed worldwide success as a songwriter with the international hits "Batucada" and "Technova." Gilberto comes from a famous musical family in Brazil. Her father is João Gilberto, her mother is the singer Miúcha, and her uncle (Miúcha's brother) is Chico Buarque de Hollanda.
She learned how to sing with Miúcha, and since she was a child, she was already participating in professional musicals like Saltimbancos and Pirlimpimpim. At seven, she experienced her recording debut on her mother's first solo album. Two years later, she performed together with her mother and Stan Getz at Carnegie Hall. In 1983, Gilberto shared an album with the singer Pedrinho Rodrigues (Um Certo Geraldo Pereira, Funarte).
Nevertheless, she wisely managed her career, avoiding a hasty debut as a solo singer. She eventually made her solo debut with 1986's Bebel Gilberto, an album whose songs were written through collaborations with Brazilian pop/rock artists like Cazuza, Dé, and others.
In 1991, Gilberto moved to New York (where she was born) and began gigging in clubs, performing at Lincoln Center, and working with David Byrne and Arto Lindsay, among others. That same year, she participated (together with Gal Costa, Naná Vasconcelos, and Laurie Anderson) in a tribute to Carmen Miranda, idealized by Arto Lindsay.
She began participating in productions that targeted the dance music market with a Brazilian bossa nova flair, even co-writing the worldwide hit "Technova" with Deee-Lite's DJ/producer Towa Tei. She also appeared in singles by the Thievery Corporation ("Só Com Você") and the duo Arling & Cameron ("Sem Contenção"), and had relocated to England by the end of the '90s. In 1998, Gilberto had a duet with João Gilberto in his Carnegie Hall concert.
Tanto Tempo arrived in 2000 on Ziriguiboom Records and fared well on the World Music charts, eventually winning two Latin Grammy nominations for Best New Artist and Best Música Popular Brasileira Album in 2001. Its companion, Tanto Tempo Remixes, was also issued that same year, and Gilberto hooked up with producer Marius de Vries for her second album shortly thereafter.
The introspective, self-titled effort appeared in mid-2004, followed three years later by Momento, which featured appearances from Brazilian Girls and Orquestra Imperial, and by All in One in 2009. Although Gilberto's husband, Didiê Cunha, was the executive producer and sound engineer for All in One, by the time of the sessions for her Mario Caldato, Jr.-produced 2014 album, Tudo, the pair had divorced, and much of that record's original material was inspired by their split.
By: Alvaro Neder