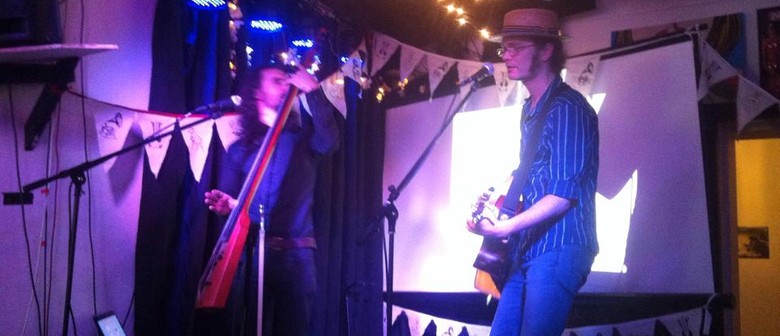 Websites
Bond Street Bridge is the solo project of multi-instrumentalist and songsmith Sam Prebble. Sam has become a fixture of the Auckland alternative folk scene, playing mandolin, fiddle and guitar with The Broken Heartbreakers, Reb Fountain's Bandits, and the Hannah Curwood Band, as well as appearing as a guest on a range of other projects. In between recording and touring, he works at libraries and universities.
In 2012 Bond Street Bridge released his second album Spring Summer Awesome Winter, on Monkey Records, the followup to 2008's critically lauded The Mapmakers' Art. Since the release of the first album, Prebble has toured extensively around New Zealand, Australia and Europe. The albums and the live show have impressed audiences, promoters, and critics alike, with Phil Reed describing The Mapmaker's Art as 'one of the finest collections of homegrown music to cross this desk in a while' in Real Groove magazine. Graham Reid of elsewhere.co.nz included it in his best of 2008 list, and North And South reviewer Simon Sweetman has already described the new album as 'one of my favourites of this year.'
The live set is a solo show in which Sam uses loop pedals and tape echoes to build up layers of guitar, violin, beats and vocals to produce a hypnotic, compelling and original sound. Audiences are drawn in to the strange world Bond Street Bridge conjures up with a combination of evocative lyrics and sonically lush instrumental arrangements. Songs about birds rub up against tales of adventure and loss, and covers of old folk songs nestle amongst rich soundscapes. This eclectic live show has secured Bond Street Bridge invitations to support New York art-pop duo The Books and the LA country-noir of the Willard Grant Conspiracy.
In 2010, Bond Street Bridge escaped the New Zealand winter and spent three months touring extensively through Europe and the UK. Along the way he played several shows with labelmate Tim Guy, and spent three months as the stand-in violinist for Berlin-based NZ psychedelic ensemble An Emerald City supporting such international heavyweights as Black Mountain and The Black Angels.
Source - http://bondstreetbridge.blogspot.co.nz/
Image - Facebook