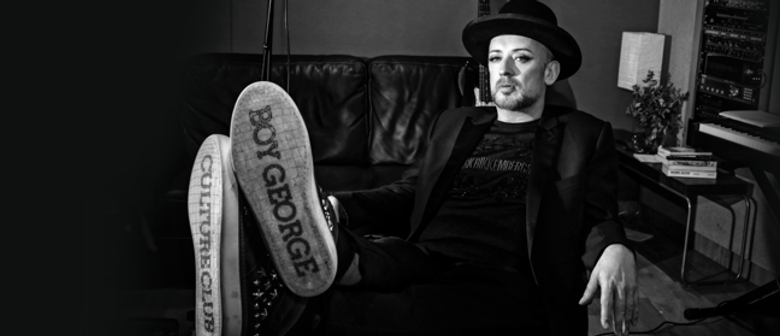 British singer Boy George combined a strong, soulful singing voice with a provocative sense of fashion, both of which were first brought to the attention of English and American audiences in the group Culture Club, for whom he served as lead singer from 1982 to 1986. The group wrote and played impeccable pop music, and Boy George's androgynous persona -- heavy makeup and outrageous costumes -- gave the group a distinct video image in the dawn of MTV.
That very distinctiveness, however, made the group date quickly, and at the same time Boy George encountered highly publicized personal difficulties. He re-emerged as a solo singer in 1987 with Sold, which contained a U.K. number one cover of Bread's "Everything I Own," but was unable to duplicate this success in the U.S. Boy George enjoyed four British singles' chart entries in 1987 and another three in 1988. His second album, Tense Nervous Headache (1988), was not picked up for release in the U.S.; his third, Boyfriend (1989), was a Europe-only release, though Virgin Records cobbled the second and third albums together to present a second U.S. album, High Hat (1989).
In 1991 came The Martyr Mantras, another patchwork album largely made up of previously non-LP dance singles. In the U.K., it was credited to a new group, Jesus Loves You, and released on Boy George's own More Protein record label, though Virgin in the U.S. billed it as a Boy George album. By 1992, Boy George had faded at home, and in the U.S. his solo career had never taken off. Then he was brought in to sing a version of the '60s chestnut "The Crying Game" in a production by the Pet Shop Boys, as the title song for a movie that became the sleeper hit of the winter of 1992-1993, resulting in his first substantial U.S. hit as a solo artist. Cheapness and Beauty followed in 1995, and four years later Boy George resurfaced with the rarities collection Unrecoupable One Man Bandit.
Throughout the '90s, he delved back into the club scene that birthed his early romanticism, and made a name for himself as DJ in demand. It became more than a hobby toward the end of the millennium, and Boy George garnered attention in the U.K. and U.S. club circuits; such musical creativity was captured on Essential Mix, released in fall 2000. In 2002 he released U Can Never B 2 Straight - a collection of unplugged and acoustic songs it was only released in the UK and Japan. From 2002 and 2004, he recorded under the moniker The Twin and recorded and released more electronic sounds that were to chime with the Electroclash sound of the time.
Throughout the '00s, he saw plenty of legal issues and controversies, including drug possession in New York in 2005 and in 2008 for assault and false imprisonment of a male escort, for which he received a 15 months prison sentence. After overcoming these personal challenges, a new generation of musicians declared him as a major influence. One memorable collaboration included Anthony and the Johnsons on the track "You Are My Sister" in 2006. In 2007, he released the single "Time Machine" on Plan A Records and was co-written by Ivor Novello Award winner Amanda Ghost.
He also collaborated with the dance act Dark Globe on the track "Atoms" and saw several of his other previous unheard tracks remixed by long term dance collaborator Kinky Roland. Roland would subsequently release the album Ordinary Alien - The Kinky Roland Files with Boy George in 2010. In 2013, he announced that he was to release a full-length solo studio album. Entitled This Is What I Do, came after a twenty year wait since his last record.
By William Ruhlmann.
Past events by Boy George