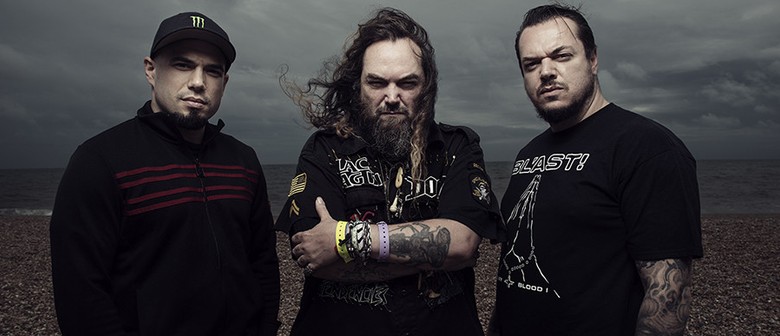 Cavalera Conspiracy is a Brazilian heavy metal band founded by brothers Max (vocals, guitar) and Igor Cavalera (drums), along with American guitarist and bassist Marc Rizzo and Johny Chow. The band originally formed in 2007 as Inflikted but changed its name for legal reasons. The group's creation marked the end of a 10-year feud between the Cavalera brothers, who founded Sepultura in the early 1980s. They remained together in that band until December 1996, when Igor, guitarist Andreas Kisser, and bassist Paulo Jr. suggested to Max that the band cancel its contract with his wife and manager Gloria, saying she paid more attention to him than the band. Disagreeing, Max decided to leave Sepultura.
Max then formed a new band, Soulfly, and his brother Igor recorded four studio albums with Sepultura before leaving the band in January 2006. In July 2006, Max received an unexpected call from his brother, and by the end of the conversation, Max had invited Igor to visit him in Phoenix, Arizona, to perform in a Soulfly show. Igor joined Soulfly in concert and performed two Sepultura songs. After the show, Max suggested they begin a new project, and Igor accepted. To complete the band, Max chose Soulfly guitarist Marc Rizzo and the Gojira frontman Joe Duplantier to play bass guitar. The group then recorded their debut album at Undercity Studios in Los Angeles with engineer and co-producer Logan Mader in July 2007. Named after the band's original moniker, Inflikted was released through Roadrunner Records on 25 March 2008.
On Inflikted, the group's musical style combines elements of Sepultura and the Cavaleras' hardcore punk roots, and the straightforward death metal fused with riffs and guitar solos of the thrash metal and groove metal that Sepultura created between Beneath the Remains (1989), Arise (1991) and Chaos A.D. (1993).
The "Infliktour" supporting the debut album began on 30 May 2008, when Cavalera Conspiracy played its first official concert at the Electric Weekend festival in Madrid, Spain. Due to recording commitments with Gojira, Duplantier was unable to join Cavalera Conspiracy on tour. He was replaced by Johny Chow of Fireball Ministry. The group has performed in several festivals in Europe and North America, including Pinkpop, Download, Monsters of Rock and the Ozzfest. - Wikipedia