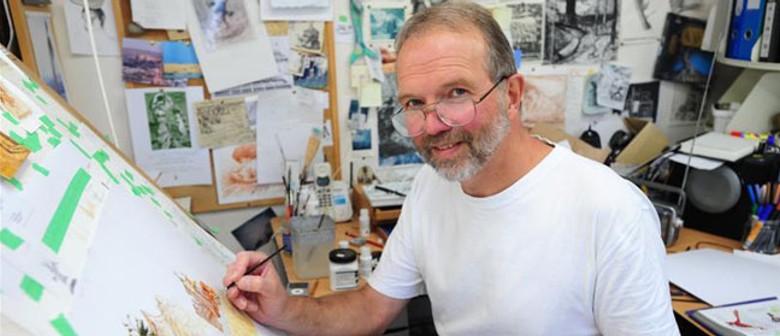 David Elliot is an award-winning children's illustrator and author, who has achieved national and international success in recent years. He has illustrated five books in the well-known 'Redwall' series and two books in the 'Castaways' series, both by U.K. author, Brian Jacques. He was also cover and interior artist for 'The Great Tree of Avalon' series, by T.A. Barron.
In 2006, David provided illustrations for Time journalist, Jeffrey Kluger's first children's book, which is due for release early next year. Closer to home, he illustrated The Smell of Powder, a book on New Zealand duelling, by Donald Kerr. His latest projects are The Hunting of the Snark (Private Press edition, with the University of Otago), which is featured on this website, and the latest book in the 'Redwall' series.
Over the last ten years, David has illustrated a wide range of children's books, including poetry, short stories, novels and picture books, for New Zealand publishers and also for U.S. publisher, Philomel (Penguin) New York. He has exhibited widely throughout New Zealand and is part of the New Zealand Book Council's Writers in Schools scheme.
David was born in Ashburton, in the South Island of New Zealand. He has a Fine Arts Diploma in Painting and is also a qualified school teacher. His previous jobs include Gatekeeper at Edinburgh Zoo (which he describes as the 'pivotal experience' which led him to a career in illustration), dishwasher in Antarctica and interior designer, designing pubs in Australia.
He currently teaches drawing part-time, as part of a visual arts course in Dunedin. The rest of his week is spent on his own work, in his Port Chalmers studio, under the scrutinising eye of his two teenage daughters.
David has won many national book awards, and at the end of 2011 was awarded the NZ Arts Foundation Mallinson Rendel Illustrators Award.
- text courtesy of www.davidelliot.org
- photos courtesy of www.odt.co.nz and marktantrum.com