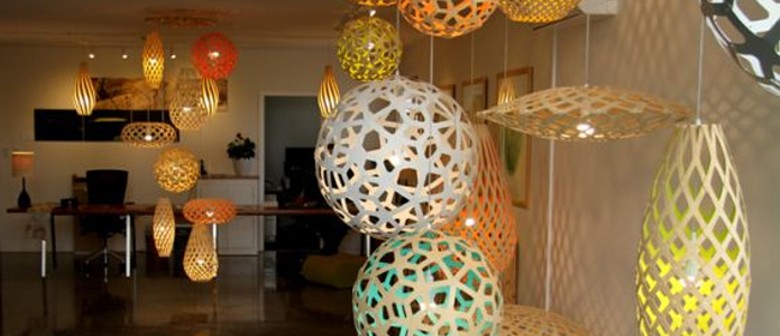 Websites
David Trubridge graduated from Newcastle University in Northern England in 1972 with a degree in Naval Architecture (Boat Design). For the next ten years he lived and worked in rural Northumberland. He taught himself furniture making while working part-time as a forester on a private estate. He went on to develop his own designs which were exhibited around Britain. Many commissions followed, most notably from the Victoria and Albert Museum, St Mary's Cathedral, Edinburgh and the Shipley Galler, Newcastle.
David arrived in New Zealand in late 1985 and based his family in the Bay of Islands, where he started to make furniture influenced by their Pacific travels. A series of chairs were made like outrigger canoes: light flexible structures fastened with string lashings held graceful canoe forms as seats. Canoe Chair is in the entrance foyer of the New Zealand embassy in Tokyo.
In 1999 David curated a national exhibition called Furniture in Context for the Hawkes Bay Cultural Trust. He exhibited the first Body Raft 98 design, which was shown with blue-prints of yacht designs.
The second version of the Body Raft was shown at Salone Satellite in the 2001 Milan Furniture Fair, where it was picked up for manufacture by Cappellini. This was the start of a whole new change in David's business model. His role has developed from that of a local designer/maker to an internationally known designer running his own design and manufacturing business with sales all over the world.
The computer has played a large part in this transformation, both in communication and design. David's early training in Naval Architecture prepared him well for computer 3D designing. Now the company integrates CNC technology and is able to move fluidly between design and production.
David's company has exhibited at numerous trade fairs and shows since its first appearance at Milan in 2001. These include, but are not limited to, 100% Design (London), ICFF (New York), Wanted Design (New York), DMY (Berlin), Dwell on Design (LA), the Pompidou Centre (Paris), Objectspace (Auckland), Cheongju Craft Biennale (South Korea), and the Nobel Peace Centre (in Oslo, Brussels and Monaco).
David's work can be found in many of the world's leading museums, such as the Pompidou Centre, the V&A, Te Papa, the Minneapolis Design Museum, and at the New Zealand Embassy in Tokoyo. He has also been commissioned for various public art projects around New Zealand and Australia and continues to develop this part of the company's practice. Since his early days as the leader of company his lights have been featured in a wide range of restaurants, bars, airports and foyers around the world. Retail displays have included English high street favorite Top Shop as part of the Kate Moss collection; Stella McCartneys diffusion line for Printemps, Paris; and on a catwalk for the Milan Fashion Week.
David continues to play an important role as an ambassador for good design - and all that it entails. Environmental and ethical responsibility and the need to design with a social conscience are embedded in his approach. He was chosen as an Arts Fellow in 2004 / 5 to travel to Antarctica and part of his response was explored in the exhibition, On Thin Ice. An accomplished speaker, he has presented at conferences in Auckland (NZ), Sydney, Adelaide and Perth (Australia), Mexico City, San Francisco, Edinburgh (UK), Dongguan (China) and regularly gives public lectures around the world.
The Vitra Design Museum has hosted him as a teacher in their summer school for a number of years, whilst he has also worked with design students in Iceland investigating the issue of whaling. He has also been recognized as the "Wornick Distinguished Visiting Professor" at the California College of the Arts (San Francisco), and has judged in the Queensland Design Institute Awards (Australia).
Source: www.davidtrubridge.com
Past events by David Trubridge