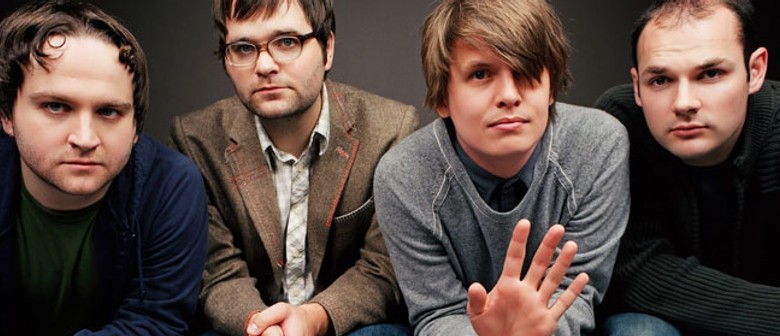 Death Cab for Cutie is an American alternative rock band formed in Bellingham, Washington in 1997. The band consists of Ben Gibbard (vocals, guitar, piano), Chris Walla (guitar, production, keyboards), Nick Harmer (bass) and Jason McGerr (drums).
Death Cab for Cutie began as a solo project of Ben Gibbard while he was the guitar player for the band Pinwheel and was recording under the name All-Time Quarterback. As Death Cab for Cutie, Gibbard released a cassette titled You Can Play These Songs with Chords; the release was surprisingly successful and Gibbard decided to expand the project into a complete band. He recruited Chris Walla (who had also worked on the cassette) as a guitarist, Nick Harmer as bass player, and Nathan Good as drummer.
Gibbard took the band name from the title of the song written by Neil Innes and Vivian Stanshall and performed by their group, the Bonzo Dog Doo-Dah Band, in The Beatles' 1967 film, Magical Mystery Tour. The song's name was in turn taken from an invented pulp fiction crime magazine, devised by Richard Hoggart as part of his 1957 study of working class culture The Uses of Literacy.
The band has released seven studio albums, five EPs, and one demo to date.
- Wikipedia