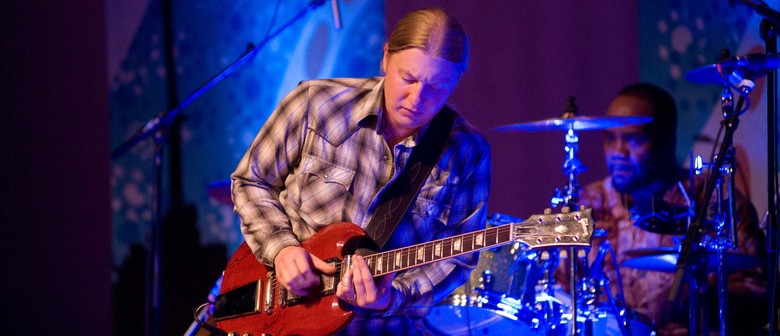 Websites
Put simply, Derek Trucks is one of the most skilful, soulful, awe-inspiring guitar players alive today. The youngest musician on Rolling Stone's list of the Top 100 Guitarists Of All Time, he is especially noted for his delicate slide style, described as 'a cross between the guitar of Duane Allman and the saxophone of John Coltrane'. His wife Susan Tedeschi is a singer, guitarist and songwriter in her own right, with a powerful blues-based style and Grammy-nominated solo albums.
Music, it seems, was Derek Trucks' destiny. Born in 1979 in Jacksonville, Florida, he is the nephew of Allman Brothers Band drummer and founder member Butch Trucks. He is named after Eric Clapton's legendary band Derek and the Dominoes (in which the late Duane Allman played a vital role.)
Having picked up guitar at age 9, Trucks was performing with the Allmans by 12, becoming a full member of the veteran southern rock group in 1999. During his teens he played with the likes of Bob Dylan, Buddy Guy and John Lee Hooker, and formed his own group, The Derek Trucks Band, to explore not only the blues but also his interest in jazz and Indian classical music.
In 1996 he toured the world as featured soloist with Eric Clapton (with whom he performed in New Zealand), while continuing to honour commitments to the Derek Trucks Band and Allman Brothers, with barely a day at home.