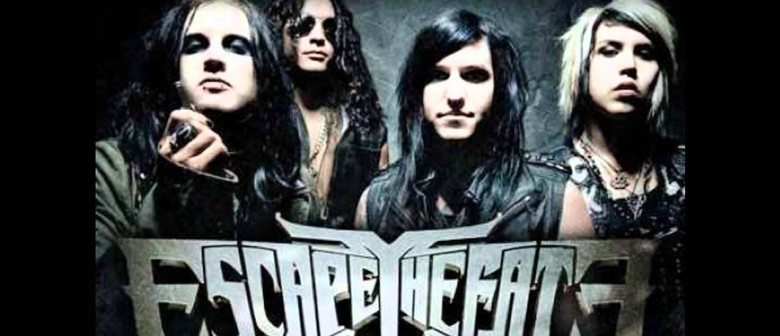 Websites
Formed in 2004, Las Vegas post-hardcore group Escape the Fate prided itself, above all else, on an energetic and visceral live show. Following the demise of their previous band, singer Ronnie Radke and bassist Max Green recruited keyboardist Carson Allen, guitarist Omar Espinoza, and drummer Robert Ortiz. Debuting live barely one month after forming, the band found early success via local radio outlets and quickly amassed a devoted hometown following. By September 2005, Escape the Fate had won a local radio contest judged by My Chemical Romance. The gig awarded them the opportunity to open a show on the band's headlining tour with Alkaline Trio and Reggie & the Full Effect, which subsequently led to a record deal with Epitaph.
Their five-song EP, There's No Sympathy for the Dead, appeared in May 2006 with their full-length debut, Dying Is Your Latest Fashion, following in September of that year. Prior to both releases, keyboardist Allen left the band, with guitarist Espinoza also leaving amicably in 2007 after the two releases. The lineup shifts continued as singer Radke was ousted in 2008 due to continued drug problems and his involvement in an altercation that led to an indictment on a charge of battery.
The remaining members recruited former blessthefall vocalist Craig Mabbitt to fill the vacant frontman position, and the revised lineup immediately hit the studio in mid-2008 to record their sophomore album, This War Is Ours, which subsequently reached number 35 on the Billboard charts that October. The album was a departure from Escape the Fate's earlier emo-inspired sound, and featured a more streamlined, hard rock approach. They immersed themselves in a heavy touring schedule and, in early 2010, began working with producer Don Gilmore (Linkin Park, Bullet for My Valentine) on their third LP. Released later that year, the self-titled album would be their first for DGC/Interscope and fared well commercially, entering the charts at number 25.
They continued to tour heavily, playing shows around the world before releasing their follow-up album, 2013's Ungrateful. Their ever-shifting lineup continued to evolve with founding member Green departing and his replacement TJ Bell taking over on bass. Brothers Monte and Michael Money manned the guitars and in addition to the lineup changes, Ungrateful also saw a shift to a different label, this time coming out on Universal imprint Eleven Seven Music. Arriving in late 2015, Escape the Fate's fifth album, Hate Me, was helmed by veteran producer Howard Benson (My Chemical Romance, Bon Jovi, Daughtry).
By Timothy Monger & Andrew Leahey