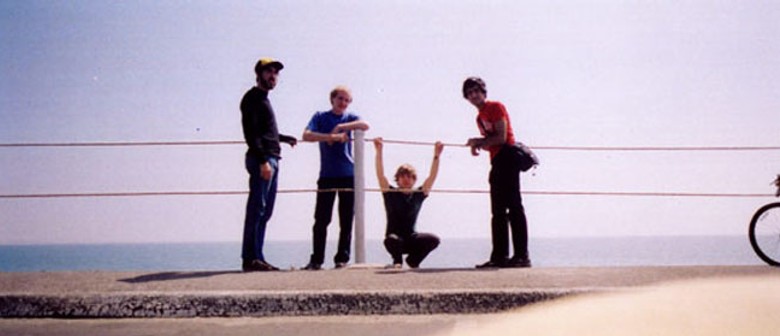 Website
Explosions in the Sky is an American post-rock band from Texas. The band has garnered popularity beyond the post-rock scene for their elaborately developed guitar work, narratively styled instrumentals, what they refer to as "cathartic mini-symphonies," and their enthusiastic and emotional live shows. They primarily play with three electric guitars and a drum kit, although band member Michael James will at times exchange his electric guitar for a bass guitar.
Originally called Breaker Morant, Explosions in the Sky was formed in Austin, Texas in 1999. Drummer Chris Hrasky is from Rockford, Illinois, and the rest of the band hails from Midland, Texas. The new name of "Explosions in the Sky" came from a comment Hrasky made in reference to the noise or sight of fireworks when they left KVRX on the night they played their first set and recorded their first track, "Remember Me as a Time of Day", that would be released on a compilation. Their 2000 debut album, How Strange, Innocence, was locally distributed in the form of CD-Rs. Rehearsal footage is featured on the feature film Cicadas, which won an Austin Film Festival award.
Explosions in the Sky quickly gained a reputation for themselves among other established local bands such as Lift to Experience. Temporary Residence Limited signed the band on the strength of their demo after only half a listen; the demo was submitted by fellow Austin band The American Analog Set with a brief note saying, "This totally fucking destroys."
They garnered a small amount of media attention with their second album, "Those Who Tell the Truth Shall Die, Those Who Tell the Truth Shall Live Forever", due to rumours linking it to the September 11, 2001 attacks. The band denied any connection in interviews.
After being contacted by Brian Reitzell, Explosions in the Sky wrote the soundtrack for the 2004 film Friday Night Lights. Despite having access to rare equipment in the studio for that project, the band kept to their songwriting style in creating original material.
Their album "The Rescue" was written and recorded in eight days as part of the TRL Travels in Constants series. As such, the album was originally only available at the band's live shows.
Explosions in the Sky's fifth studio album, "All of a Sudden I Miss Everyone", which debuted February 20, 2007, exists as both a one-disc version and a two-disc special edition featuring remixes by multiple artists.
On April 26, 2011, the band released their sixth studio album, "Take Care, Take Care, Take Care".
- text adapted from Wikipedia
- images courtesy www.explosionsinthesky.com