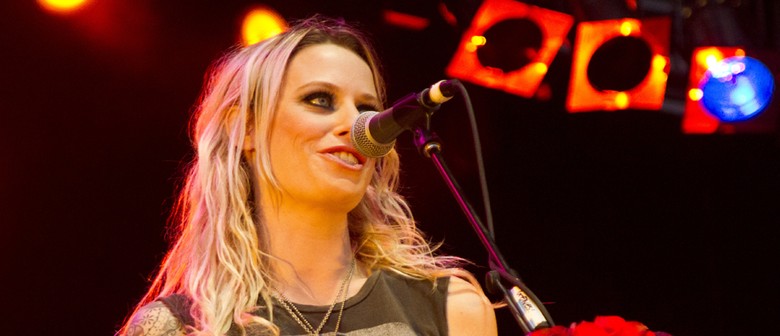 Website
Gin Wigmore, (born Auckland, 1986) is a New Zealand singer-songwriter.
While she was in Argentina at age 16, her father died of cancer. Upon her return to New Zealand, she articulated in song the pain of losing her father. One of those early songs, "Hallelujah", won the US-based International Songwriting Competition in 2004, when she beat 11,000 songwriting aspirants from 77 countries to become the youngest and only unsigned Grand Prize winner in the history of the ISC. "Hallelujah" was also featured in the season 6 finale of One Tree Hill.
Extended Play was Wigmore's first EP. It was produced by Tony Buchen (Blue King Brown, The Whitlams, Macromantics, Kid Confucius). Released in 2008, it peaked at number ten in the New Zealand charts. The EP was certified Platinum in New Zealand on 2 May 2010, selling over 15,000 copies.
In 2009, Wigmore released her full length debut album, Holy Smoke, recorded with The Cardinals of Ryan Adams & the Cardinals fame. The first single from the album, "Oh My", debuted on the New Zealand Singles Chart at number twenty-one on 24 August 2009, moving to number seven the following week. It peaked at number four.
Three other singles were released during 2010, 'I Do' charted at no.14 on the Official New Zealand Singles Chart, while third single 'Hey Ho' missed out on a top 20 position by charting just outside at no.21. The fourth single taken from Holy Smoke was 'Too Late For Lovers', and despite hitting no.3 on the NZ40 Airplay chart, the single failed to crack the national Top 40.
In November 2011, Wigmore released her second album, Gravel & Wine. The first single from this album was "Black Sheep", released in September 2011.
- text edited from Wikipedia

Post a comment
Gin, you ROK!l - I'm lyke nearly 50 and saw your doco and the passion, excitement and honesty that you exude matches your artistry and intepretation of your music, such a talented human being - thanks and if you're ever looking to gig in South Auckland, come to the best bar ever, we treat all our artists with respect and our stage, lighting and ambience certainly demonstrates this, anyway girl, congratulations on your huge achievements,... Anita Stowers